We are pleased to announce that Northview Windows & Doors is participating in the National Home Show – an annual even taking place March 13-22, 2015, Direct Energy Centre, Exhibition Place, Toronto, ON.
In the past several years Thermoluxe entry doors have been finding their homes across the country and even across the border in the USA.  Northview Windows & Doors has been serving GTA customers with quality installations.
There is a growing demand in highly innovative entrances and every year we are aiming to reach more homeowners and industry professionals and as a well established partner of Thermoluxe, we are excited to exhibit its products at this major event.
Thermoluxe entry doors at National Home Show 2015 are presented by the model DI-26, upgraded AR-18, brand-new AR25, and AVR09.
DI-26 show model is presented in a steel single door configuration and a popular Electric Orange finish which was a topseller in 2014. It also features a specialty 3D kiln cast glass insert.
AVR-09 is a version of AV09, just without glass. The show model has a wide sidelight with lines on acid etched glass matching the door stainless steel lines.
 AR-25 is our newest addition to the Architec series, another model with a linear design, however this time we did not use any stainless steel lines at all, just a CNC router to create the grooves.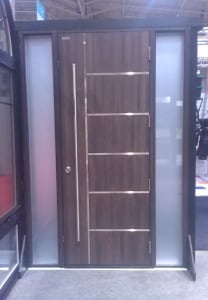 AR-18 demo door arrived at the show with an upgraded design and it was built in an 8' height with an extra thick fibreglass woodgrain slab and with 2 sidelights.
Door hardware is an essential part of our products and we made sure our sample models are equipped with most popular pull bar handles and locking solutions.
We invite all the interested individuals to visit our booth 3338 where they can view our products and meet with our consultants, who will be glad to offer professional advice and answer any questions about Thermoluxe catalog products.
We look forward to continuing great relationships and establishing new ones with our customers and business partners and are committed to bring more products of excellence this year to the market, making a difference in the home design industry!