Garden Doors
Adding elegance and comfort to your home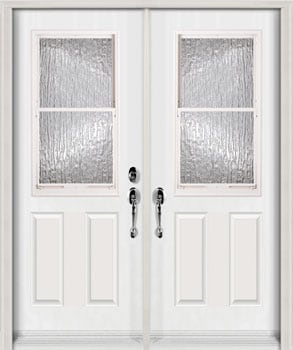 Those homeowners in Toronto and Calgary who decide to enjoy a spectacular outside view from their living room, dining area or kitchen and bring large amounts of light into the house may consider installing garden doors also known as French doors.
Unlike front doors which are meant to be a transit point of the house, garden or French doors are designed to be a focal point for homeowners and their guests. They usually lead to the backyard and allow enjoying spectacular view of nature from the inside of your home.
It is where family gatherings take place the most and that is why it is especially important to make the space comfortable and enjoyable.
Basically, French doors are a hinged alternative to sliding patio doors. Their slabs can be made of either steel or fibreglass and you can choose from multiple hinge, swing and operating options. One of the most typical configurations of a French door is a fixed post between two operable jamb hinged panels. These doors always come with a screen and are very easy to operate.
Unlike sliding doors, French doors may have textured glass for an increased style and you may also choose the type of hardware to match the décor of your home. They can also accommodate larger opening. You can design the slab appearance to ensure its perfect blending with the house.
Our French doors offer excellent thermal performance as their slabs have polyurethane core acting as an insulator, energy efficient insulated glass units, and superior weatherstripping system. They will welcome fresh breezes to you home during warm seasons but will stay closed tightly to protect you from the toughest Canadian weather.
You can select a garden door from our unique collection and our professional experts will help you customize its appearance and size, if necessary, so it will complement your unique house style.
Quote Form
[[[["field45","contains","Windows"]],[["show_fields","field47"]],"and"],[[["field45","contains","Exterior Doors"]],[["show_fields","field77,field65,field48,field49,field74,field75,field76,field64,field78,field79,field80"]],"and"],[[["field45","contains","Bi-Folding Doors"]],[["show_fields","field52,field53"]],"and"],[[["field77","contains","Contemporary Entry Doors"]],[["show_fields","field58"]],"and"],[[["field77","contains","Transitional Entry Doors"]],[["show_fields","field66"]],"and"],[[["field77","contains","Traditional Entry Doors"]],[["show_fields","field67"]],"and"],[[["field77","contains","Decorative Glass Doors"]],[["show_fields","field68"]],"and"],[[["field77","contains","Doors With Wrought Iron Inserts"]],[["show_fields","field69"]],"and"],[[["field77","contains","Steel Doors"]],[["show_fields","field70"]],"and"],[[["field77","contains","Custom Fiberglass Shaped Doors"]],[["show_fields","field71"]],"and"],[[["field77","contains","Overlay Collection"]],[["show_fields","field72"]],"and"],[[["field77","contains","Doors With Simulated Divided Lites"]],[["show_fields","field73"]],"and"],[[["field77","contains","Steel Doors"]],[["show_fields","field82,field84"]],"and"],[[["field84","contains","Choose Other"]],[["show_fields","field85"]],"and"],[[["field77","contains","Contemporary Entry Doors"],["field77","contains","Transitional Entry Doors"],["field77","contains","Traditional Entry Doors"],["field77","contains","Decorative Glass Doors"],["field77","contains","Doors With Wrought Iron Inserts"],["field77","contains","Custom Fiberglass Shaped Doors"],["field77","contains","Overlay Collection"],["field77","contains","Doors With Simulated Divided Lites"]],[["show_fields","field81"]],"or"],[[["field81","contains","Choose a Paint Color"]],[["show_fields","field82,field84"]],"and"],[[["field84","contains","Choose Other"]],[["show_fields","field85"]],"and"],[[["field81","contains","Choose a Stain"]],[["show_fields","field83"]],"and"]]
keyboard_arrow_leftPrevious
Nextkeyboard_arrow_right
FormCraft - WordPress form builder