Quote Form
[[[["field45","contains","Windows"]],[["show_fields","field47"]],"and"],[[["field45","contains","Exterior Doors"]],[["show_fields","field77,field65,field48,field49,field74,field75,field76,field64,field78,field79,field80"]],"and"],[[["field45","contains","Bi-Folding Doors"]],[["show_fields","field52,field53"]],"and"],[[["field77","contains","Contemporary Entry Doors"]],[["show_fields","field58"]],"and"],[[["field77","contains","Transitional Entry Doors"]],[["show_fields","field66"]],"and"],[[["field77","contains","Traditional Entry Doors"]],[["show_fields","field67"]],"and"],[[["field77","contains","Decorative Glass Doors"]],[["show_fields","field68"]],"and"],[[["field77","contains","Doors With Wrought Iron Inserts"]],[["show_fields","field69"]],"and"],[[["field77","contains","Steel Doors"]],[["show_fields","field70"]],"and"],[[["field77","contains","Custom Fiberglass Shaped Doors"]],[["show_fields","field71"]],"and"],[[["field77","contains","Overlay Collection"]],[["show_fields","field72"]],"and"],[[["field77","contains","Doors With Simulated Divided Lites"]],[["show_fields","field73"]],"and"],[[["field77","contains","Steel Doors"]],[["show_fields","field82,field84"]],"and"],[[["field84","contains","Choose Other"]],[["show_fields","field85"]],"and"],[[["field77","contains","Contemporary Entry Doors"],["field77","contains","Transitional Entry Doors"],["field77","contains","Traditional Entry Doors"],["field77","contains","Decorative Glass Doors"],["field77","contains","Doors With Wrought Iron Inserts"],["field77","contains","Custom Fiberglass Shaped Doors"],["field77","contains","Overlay Collection"],["field77","contains","Doors With Simulated Divided Lites"]],[["show_fields","field81"]],"or"],[[["field81","contains","Choose a Paint Color"]],[["show_fields","field82,field84"]],"and"],[[["field84","contains","Choose Other"]],[["show_fields","field85"]],"and"],[[["field81","contains","Choose a Stain"]],[["show_fields","field83"]],"and"]]
keyboard_arrow_leftPrevious
Nextkeyboard_arrow_right
FormCraft - WordPress form builder
Casement windows, being the top selection product in the line of our vinyl windows in Toronto and Calgary, attract homeowners due to their traditional, timeless design and easiness of operation. They successfully adapt to any architectural style and would be a great fit for virtually any room where you would like to have excellent ventilation and view. Modern technology makes them even more appealing, secure, reliable and convenient in everyday use.
A vinyl casement window is a tall, narrow window that opens by cranking a handle. A casement-type window is hinged at either the right-hand or left-hand side and swings 90º open outwards. There are different configurations available, from single windows to multiple ones with a common frame. These multiple casement combinations often include fixed casements with non-operating sash, they are very popular and can significantly boost up the curb appeal of your house.
Casement windows are also available in Aluminum Clad Wood option. To customize the look of your aluminum clad wood casement windows, you would be able to stain or paint the wood on the inside to match the interior of your room, and also aluminum can be ordered painted in virtually any color maximizing the attractiveness of your house exterior.
You can choose from a variety of extra options and personalize the casement design by adding grills, for example, or choosing a certain color. No matter what your home style is, Northview's casements can be tailored to meet your specific needs and transform your home appearance making it unique and beautiful.
Watch the casement video:
Vinyl casement windows offer a timeless design and contemporary look in one, simple package. They provide an effortless operation with an easy-to-turn handle to allow for a clean and unobstructed view. Installed on their own or paired with other windows, casement windows will complement any room.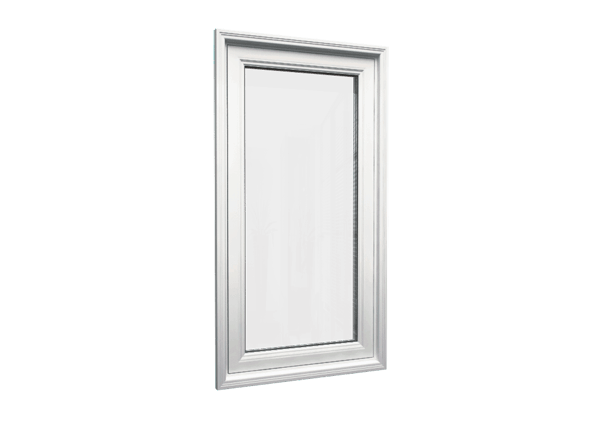 Offers a gorgeous, modern look to your home
Opens from the bottom of the frame to provide a unique, stylish look
Designed with high-class security details to protect against theft or trespassing
Provides maximum ventilation and natural light without compromising your privacy
Compact and durable in design to withstand most weather climates
Visually stunning for a fraction of the price in comparison to other high-end window styles
Ratings
Test

Rating

Air Tightness

A3

Water Tightness

B7

Wind Load Resistance

C5

Ease of Operation

Pass

Resistance Force Entry/ Sash Tests/ Screen Test

Pass

 
Northview Vinyl Casement gallery: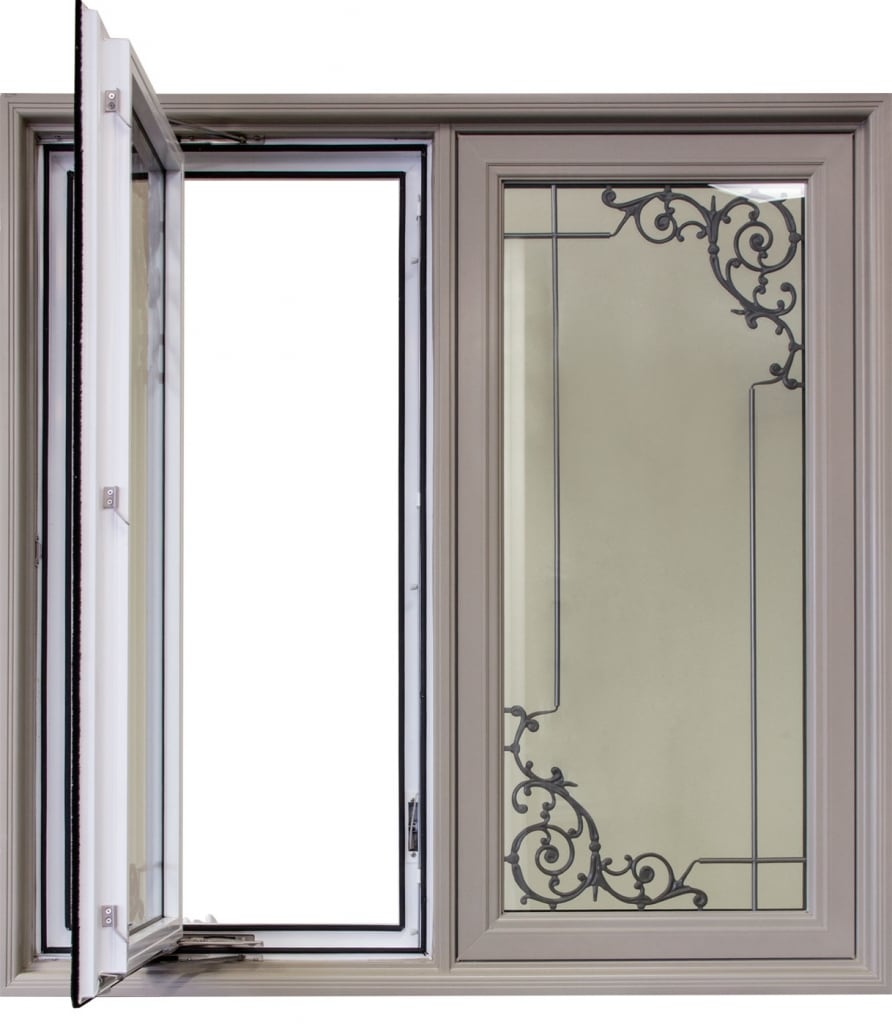 Casement Features
Vinyl extrusions with multi air chambers for insulation and structural stability
Double glazed insulated glass units with Low-E & Argon energy-efficient glass
Triple weather-stripping provides excellent airtightness
Super Spacer® SustainaView™ technology for superior thermal performance
High-security multi-point lock operated by a single handle
Collapsible crank handles
Premium quality stainless steel hardware
Removable screen
Full 90ºopening for easy cleaning
Construction: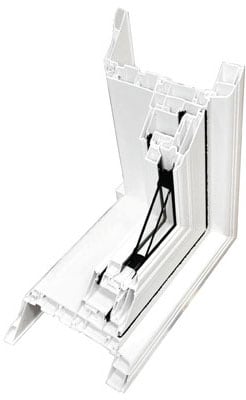 The sealed glass unit has 13/16″ overall thickness
Depending on the model, glazing of different types and thicknesses can be applied, including single, double, triple and Low-E glazing as well as a glazed decorative panel (3/4″ to 1-1/8″)
Fusion welding corners provide an attractive appearance & eliminate the need for adhesive and sealants. There are no imperfections on the completely watertight and airtight surfaces. Internal walls are also welded for increased overall structural strength
The opening mechanism and high-security multi-point locking system come with stainless steel hinges and tracks. Hardware mounting is done through a minimum of two uPVC frame walls for secure and durable fastening
These windows have the highest number of internal air chambers, giving them outstanding insulation and sound abatement qualities, as well as thermal efficiency and increased sturdiness
A choice of maintenance-free PVC jamb extensions, frame moldings and corner blocks are available to enhance inside finishing.
Windows Installation
Installation is crucially important for a good performance and a long lifespan of a window. Therefore we work only with experienced teams of installers who know their job and are true professionals of the industry. Our experts are capable of doing the following types of window installation: retrofit, stud-to-stud and brick-to-brick.
Retrofit installation features:
fast and inexpensive comparing to other types;
involves window sash removal only;
frame and both exterior and interior trims stay untouched;
ideal for situations when the existing window frame is in a good condition
Stud-to-stud installation features:
the old window frame is completely removed up to the house framing;
aluminum flashing finish with caulking for the exterior – to ensure resistance to water;
choice of interior jamb and trim;
perfect for replacing windows with damaged frames and/or with poor insulation;
provides better energy efficiency compared to retrofit
Brick-to-brick installation features:
the old window frame is completely removed up to the house framing;
the vinyl brickmould is applied on the new windows; the gap between vinyl brick mould and wall is insulated with foam and sealed with caulking;
choice of interior jamb and trim;
perfect for replacing windows with damaged frames and/or with poor insulation;
provides better energy efficiency compared to retrofit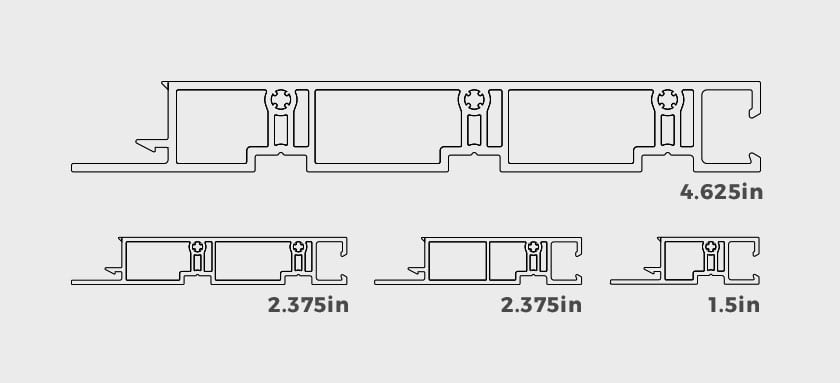 Jambs and interior finishing options
There are four standard vinyl jamb sizes available for the installation of your windows. Besides, at Northview we can also provide wood jamb extensions as well as corner blocks and frame mouldings – just to ensure our customers receive smooth and beautiful looking windows.
Brickmold
Our brickmoulds are manufactured from durable and maintenance-free PVC powder compound and provide a year round excellent performance in the Canadian climate. Our brickmoulds are available in a variety of sizes and colours so your new windows can blend seamlessly into the exterior appearance of your house.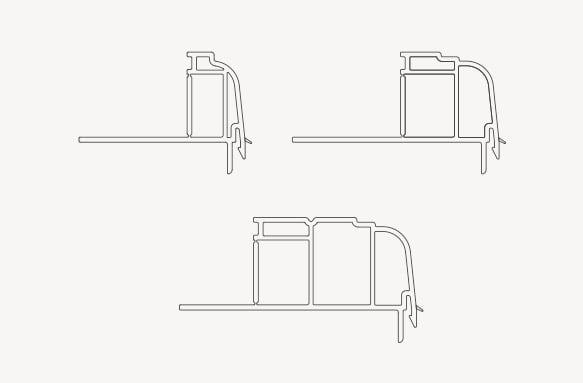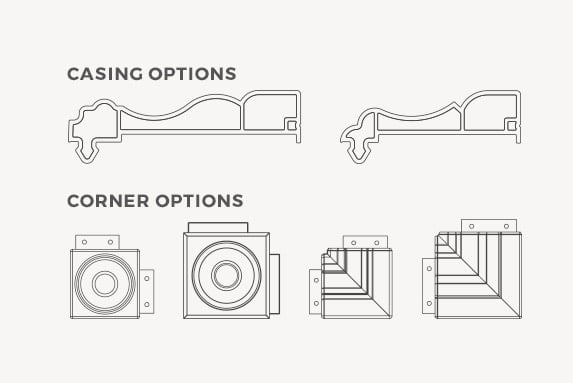 Trim options
We offer a large assortment of vinyl trim options for the exquisite and stylish finishing touch. The aesthetics of our trims are enhanced by advanced technology which ensures the material will stay durable and free from color changing for years. We offer standard and custom palettes of colors.