Quote Form
[[[["field45","contains","Windows"]],[["show_fields","field47"]],"and"],[[["field45","contains","Exterior Doors"]],[["show_fields","field77,field65,field48,field49,field74,field75,field76,field64,field78,field79,field80"]],"and"],[[["field45","contains","Bi-Folding Doors"]],[["show_fields","field52,field53"]],"and"],[[["field77","contains","Contemporary Entry Doors"]],[["show_fields","field58"]],"and"],[[["field77","contains","Transitional Entry Doors"]],[["show_fields","field66"]],"and"],[[["field77","contains","Traditional Entry Doors"]],[["show_fields","field67"]],"and"],[[["field77","contains","Decorative Glass Doors"]],[["show_fields","field68"]],"and"],[[["field77","contains","Doors With Wrought Iron Inserts"]],[["show_fields","field69"]],"and"],[[["field77","contains","Steel Doors"]],[["show_fields","field70"]],"and"],[[["field77","contains","Custom Fiberglass Shaped Doors"]],[["show_fields","field71"]],"and"],[[["field77","contains","Overlay Collection"]],[["show_fields","field72"]],"and"],[[["field77","contains","Doors With Simulated Divided Lites"]],[["show_fields","field73"]],"and"],[[["field77","contains","Steel Doors"]],[["show_fields","field82,field84"]],"and"],[[["field84","contains","Choose Other"]],[["show_fields","field85"]],"and"],[[["field77","contains","Contemporary Entry Doors"],["field77","contains","Transitional Entry Doors"],["field77","contains","Traditional Entry Doors"],["field77","contains","Decorative Glass Doors"],["field77","contains","Doors With Wrought Iron Inserts"],["field77","contains","Custom Fiberglass Shaped Doors"],["field77","contains","Overlay Collection"],["field77","contains","Doors With Simulated Divided Lites"]],[["show_fields","field81"]],"or"],[[["field81","contains","Choose a Paint Color"]],[["show_fields","field82,field84"]],"and"],[[["field84","contains","Choose Other"]],[["show_fields","field85"]],"and"],[[["field81","contains","Choose a Stain"]],[["show_fields","field83"]],"and"]]
keyboard_arrow_leftPrevious
Nextkeyboard_arrow_right
FormCraft - WordPress form builder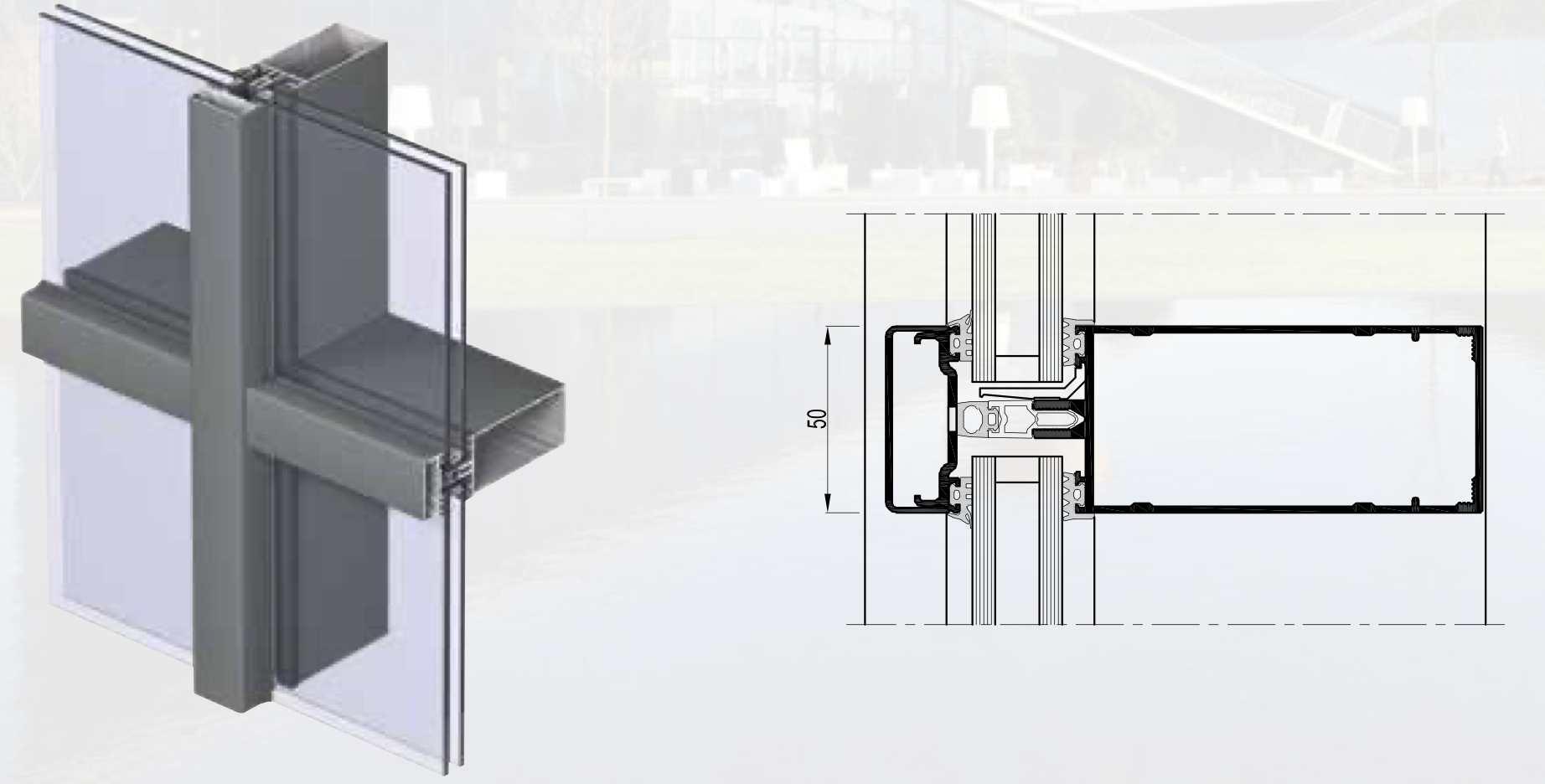 The Concept Wall 50 is a state – of – the – art roof system which seamlessly connects you to the outside world using highly advanced glass technology. The CW 50 supports up to 700kg of various glass configurations – proving flexibility in its design and cut. 
Available in several finishes and styles, this system offers many contemporary looks perfect for your needs. Hardy steel beams frame the skeleton of the structure, as standard pressure plates and industry – grade structural glass is connected using an intricate internal steel system. Fire-resistant, burglar proof and thermally insulated with an impressive value of Uf = 0.56W/ m²K, the CW 50 can withstand almost any obstacle. Key design elements can also be adjusted to feature a multitude of opening types, such as a parallel opening window, hidden vent turn and tilt window, top hung window and even an attic window for the integration of additional roof applications, if desired. The CW 50 proudly offers an extensive range of gaskets, accessories and tools specially developed for easy installation and customizability. 
Technical Characteristics And Features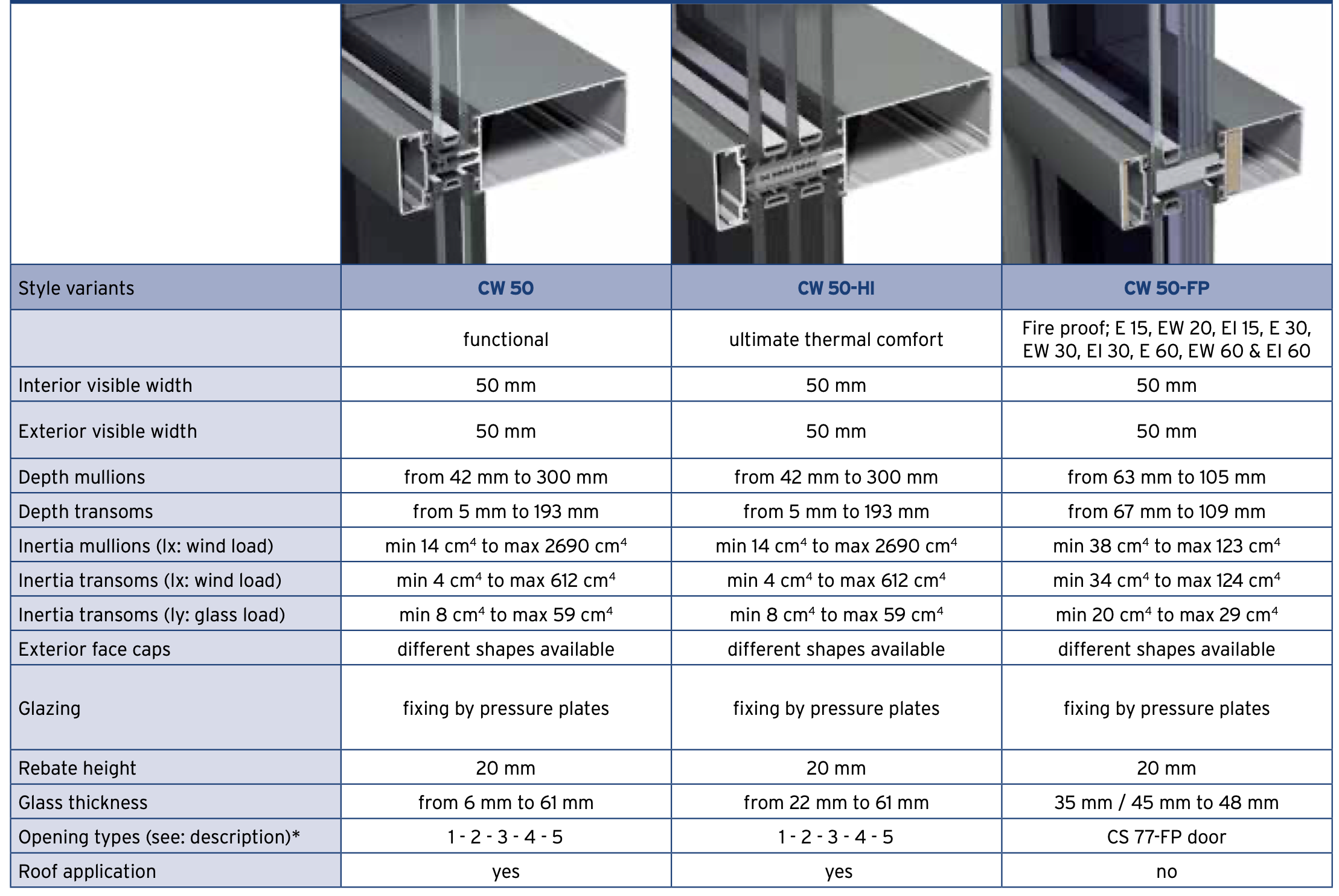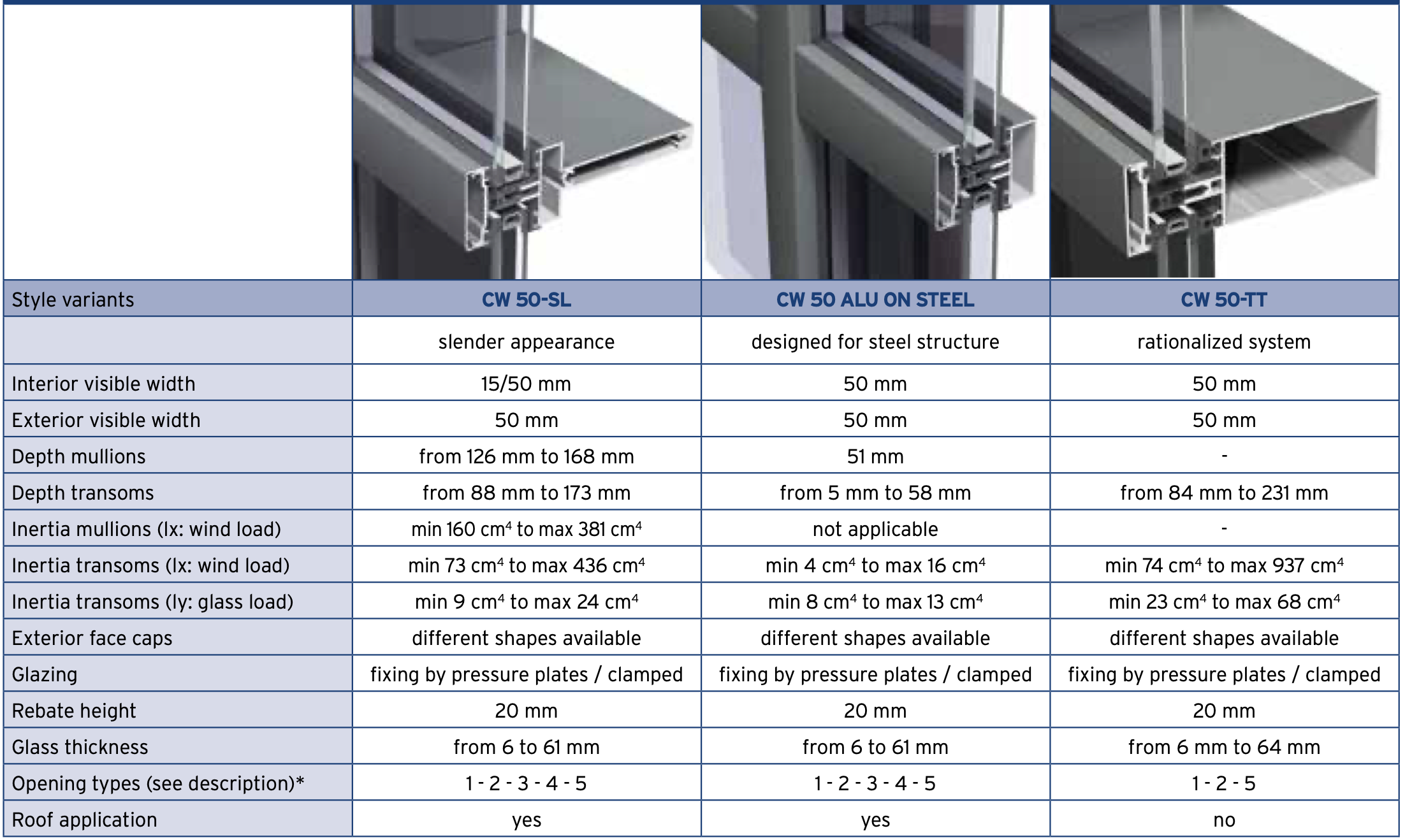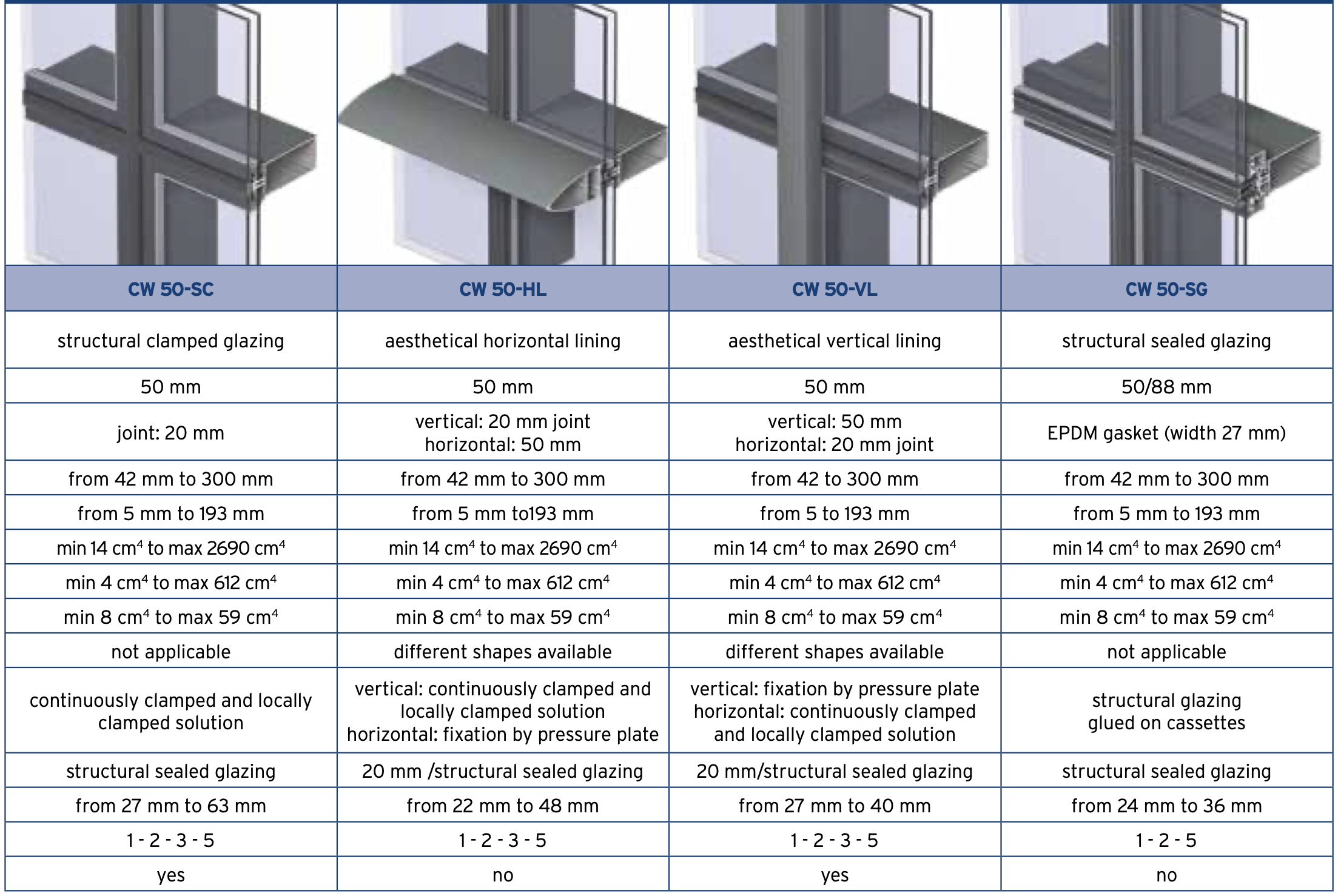 Overview Exterior Looks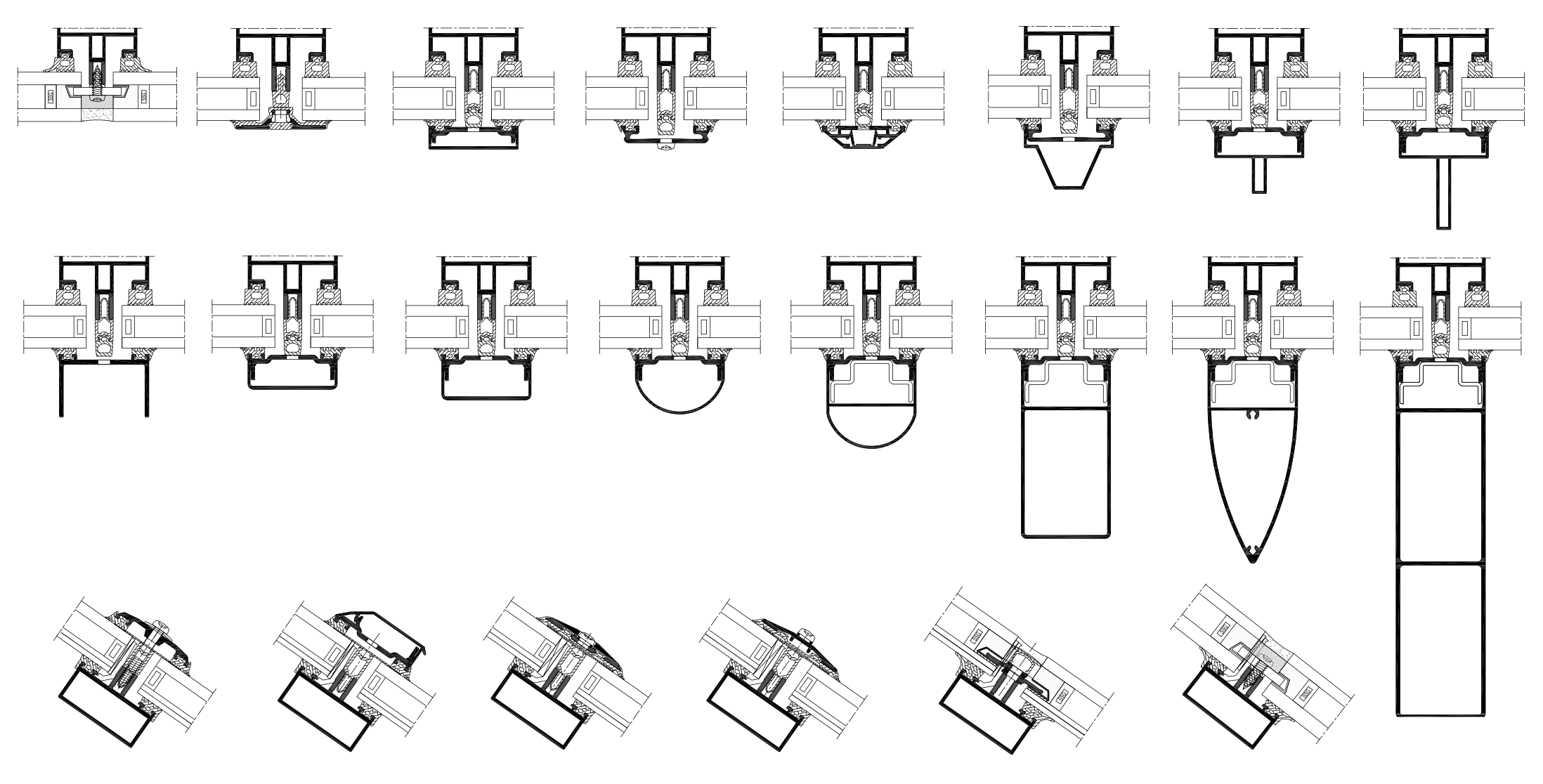 Performance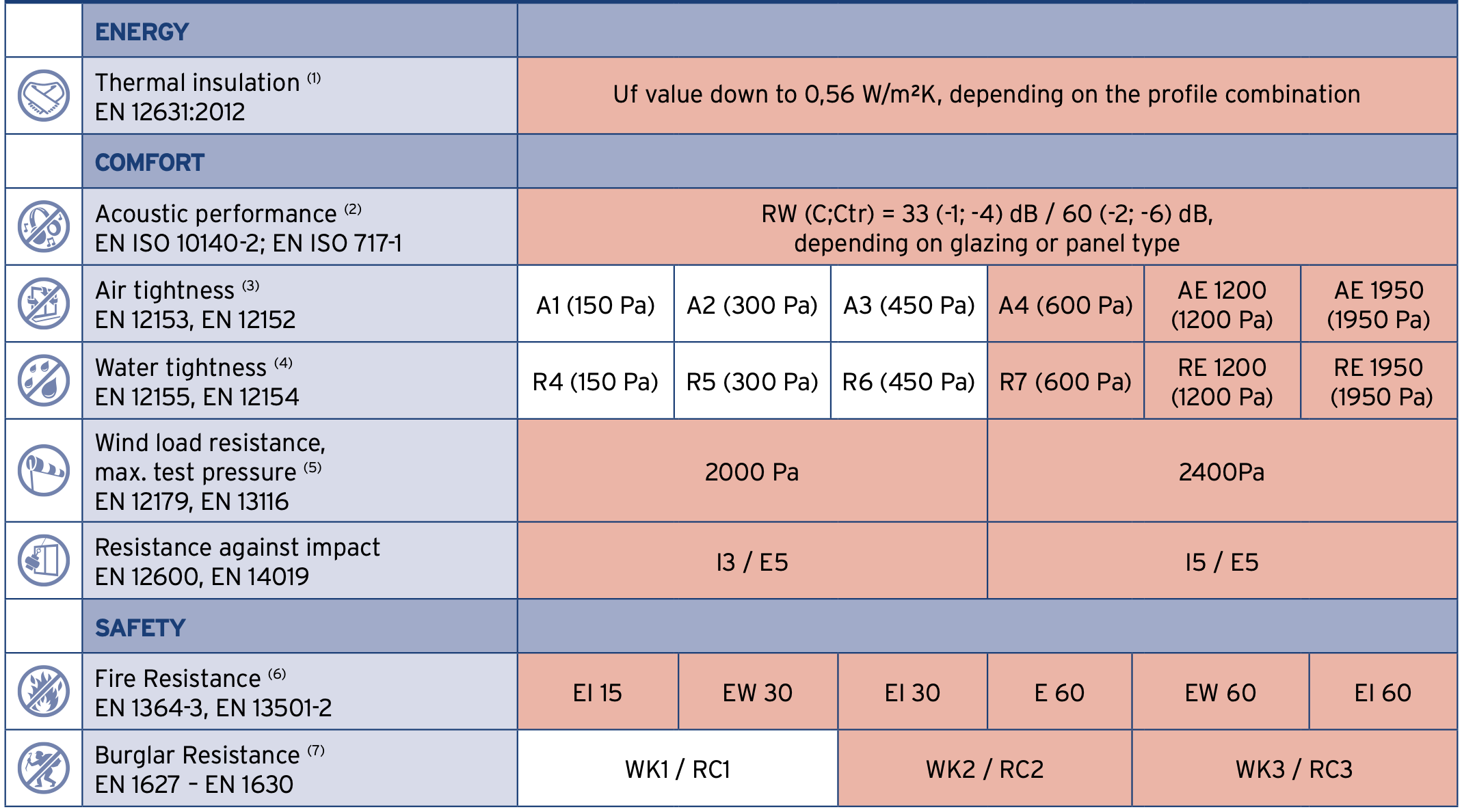 If you would like to get a free estimate, please fill out the form below. If you have questions about our door or any other product, please chat with us, call 18664514451 or email us.
Quote Request Form
[[[["field45","contains","Windows"]],[["show_fields","field47"]],"and"],[[["field45","contains","Exterior Doors"]],[["show_fields","field77,field65,field48,field49,field74,field75,field76,field64,field78,field79,field80"]],"and"],[[["field45","contains","Bi-Folding Doors"]],[["show_fields","field52,field53"]],"and"],[[["field77","contains","Contemporary Entry Doors"]],[["show_fields","field58"]],"and"],[[["field77","contains","Transitional Entry Doors"]],[["show_fields","field66"]],"and"],[[["field77","contains","Traditional Entry Doors"]],[["show_fields","field67"]],"and"],[[["field77","contains","Decorative Glass Doors"]],[["show_fields","field68"]],"and"],[[["field77","contains","Doors With Wrought Iron Inserts"]],[["show_fields","field69"]],"and"],[[["field77","contains","Steel Doors"]],[["show_fields","field70"]],"and"],[[["field77","contains","Custom Fiberglass Shaped Doors"]],[["show_fields","field71"]],"and"],[[["field77","contains","Overlay Collection"]],[["show_fields","field72"]],"and"],[[["field77","contains","Doors With Simulated Divided Lites"]],[["show_fields","field73"]],"and"],[[["field77","contains","Steel Doors"]],[["show_fields","field82,field84"]],"and"],[[["field84","contains","Choose Other"]],[["show_fields","field85"]],"and"],[[["field77","contains","Contemporary Entry Doors"],["field77","contains","Transitional Entry Doors"],["field77","contains","Traditional Entry Doors"],["field77","contains","Decorative Glass Doors"],["field77","contains","Doors With Wrought Iron Inserts"],["field77","contains","Custom Fiberglass Shaped Doors"],["field77","contains","Overlay Collection"],["field77","contains","Doors With Simulated Divided Lites"]],[["show_fields","field81"]],"or"],[[["field81","contains","Choose a Paint Color"]],[["show_fields","field82,field84"]],"and"],[[["field84","contains","Choose Other"]],[["show_fields","field85"]],"and"],[[["field81","contains","Choose a Stain"]],[["show_fields","field83"]],"and"]]
keyboard_arrow_leftPrevious
Nextkeyboard_arrow_right
FormCraft - WordPress form builder