Is Built For Canadian Climate
High impact compression moulded fiberglass skins are "weatherproof" and will not delaminate, corrode, mold or mildew. Northview fiberglass doors also do not dent, rust, warp, crack, split, splinter, or rot and are very easy to keep clean.
Waterproof composite stiles and rails are sealed and beautifully finished to protect all edges of the door from moisture penetration which could harm the inner insulation. The composite material will not delaminate or splinter and holds twice the screw-holding capacity of typical wood-edge doors. The top and bottom rails are also composite components that prevent water seepage, are easy to trim and pre-machined to accommodate the bottom weather sweep. This patented innovation protects every Designer Arch fiberglass door from moisture infiltration.
Full-length lock block and more internal structure than any door of its kind in North America. This structural reinforcement also ensures added security against forced entry and provides incomparable stability.
Fiberglass Doors Slabs
SPECIFICALLY DESIGNED TO WITHSTAND THE HARSH CANADIAN CLIMATE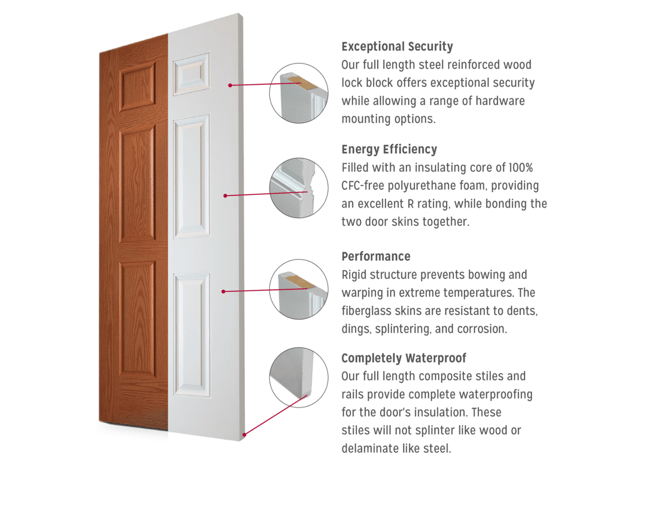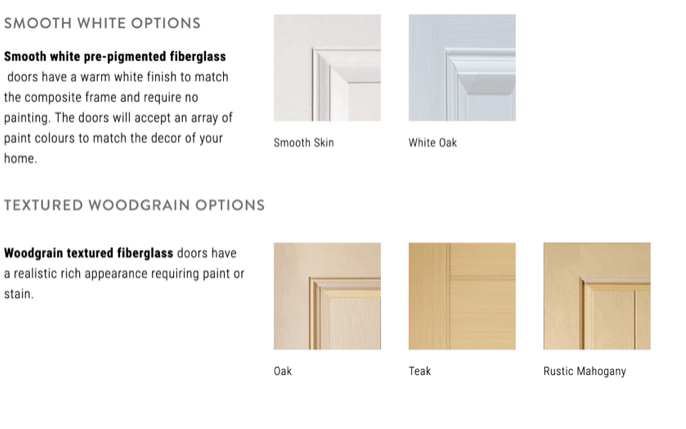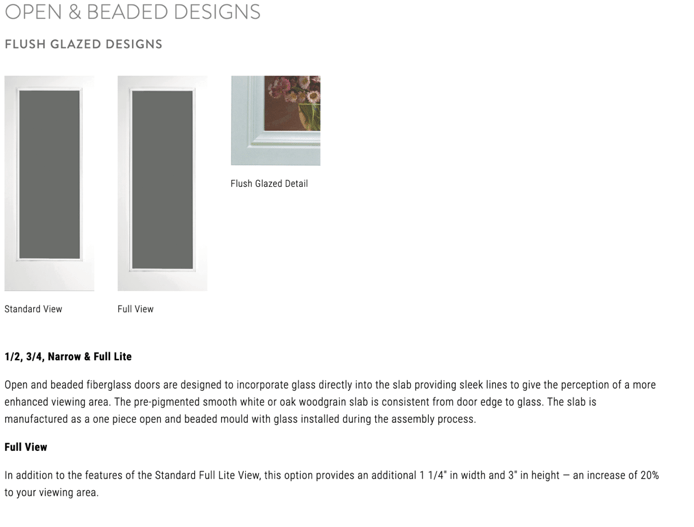 Advantages of Fiberglass Entry Doors
Here are a few reasons why so many homeowners choose fiberglass doors:
Durability
Fiberglass doors work well in almost any climate, even extreme cold and damp conditions. Unlike wood, fiberglass doors do not warp, crack, or rot. And unlike steel, the doors don't rust, scratch, or corrode. Fiberglass is built to last and will not require yearly re-finishing to stay in top shape.
Versatility
Fiberglass doors come in a variety of sizes, styles, and finishes. You can get them built to fit your opening with a factory finish to match your personal taste. Or you can choose factory-primed doors that you can stain or paint on your own.
Appearance
Want the appearance of real wood without the maintenance of traditional products? Fiberglass doors look just like real wood and only the closest inspection betrays the truth. They are classy and elegant, allowing you to make the best first impression possible to anyone visiting your home.
Insulation
These doors reduce heat transfer and improve energy efficiency. This can make a big difference in your energy bills as well as improve the comfort by helping to maintain the temperature.
Security
Fiberglass doors are durable and very resilient. Manufacturers fit them with secure locks. They are designed to resist the elements, but also deter criminals so you can feel safe inside your home.