Quote Form
[[[["field45","contains","Windows"]],[["show_fields","field47"]],"and"],[[["field45","contains","Exterior Doors"]],[["show_fields","field77,field65,field48,field49,field74,field75,field76,field64,field78,field79,field80"]],"and"],[[["field45","contains","Bi-Folding Doors"]],[["show_fields","field52,field53"]],"and"],[[["field77","contains","Contemporary Entry Doors"]],[["show_fields","field58"]],"and"],[[["field77","contains","Transitional Entry Doors"]],[["show_fields","field66"]],"and"],[[["field77","contains","Traditional Entry Doors"]],[["show_fields","field67"]],"and"],[[["field77","contains","Decorative Glass Doors"]],[["show_fields","field68"]],"and"],[[["field77","contains","Doors With Wrought Iron Inserts"]],[["show_fields","field69"]],"and"],[[["field77","contains","Steel Doors"]],[["show_fields","field70"]],"and"],[[["field77","contains","Custom Fiberglass Shaped Doors"]],[["show_fields","field71"]],"and"],[[["field77","contains","Overlay Collection"]],[["show_fields","field72"]],"and"],[[["field77","contains","Doors With Simulated Divided Lites"]],[["show_fields","field73"]],"and"],[[["field77","contains","Steel Doors"]],[["show_fields","field82,field84"]],"and"],[[["field84","contains","Choose Other"]],[["show_fields","field85"]],"and"],[[["field77","contains","Contemporary Entry Doors"],["field77","contains","Transitional Entry Doors"],["field77","contains","Traditional Entry Doors"],["field77","contains","Decorative Glass Doors"],["field77","contains","Doors With Wrought Iron Inserts"],["field77","contains","Custom Fiberglass Shaped Doors"],["field77","contains","Overlay Collection"],["field77","contains","Doors With Simulated Divided Lites"]],[["show_fields","field81"]],"or"],[[["field81","contains","Choose a Paint Color"]],[["show_fields","field82,field84"]],"and"],[[["field84","contains","Choose Other"]],[["show_fields","field85"]],"and"],[[["field81","contains","Choose a Stain"]],[["show_fields","field83"]],"and"]]
keyboard_arrow_leftPrevious
Nextkeyboard_arrow_right
FormCraft - WordPress form builder
These windows offer a pleasing appearance as well as functionality and are especially appropriate for multi-room homes or residential buildings. Single Hung Tilt windows contain a structural frame and a sash which provides architectural reliability as well as an elegant appearance. The bottom part of these windows tilts inward, while the upper part is fixed to maintain thermal efficiency. This classic design allows for air circulation and provides easy access to the exterior of the window from within your home. Single-hung casement windows are also available in Aluminum Clad Wood option. To customize the look of your aluminum clad wood single hung windows, you would be able to stain or paint the wood on the inside to match the interior of your room, and also aluminum can be ordered painted in virtually any color maximizing the attractiveness of your house exterior.
Watch the single hung video:
A beautiful, functional addition to any multi-room home or residential building. This classic design contains features a bold, structural frame and sash to provide exceptional durability with an elegant look. Single Hung windows open inward from the bottom to maintain maximum thermal efficiency with a fixed, upper level – providing optimal air circulation and easy access to the exterior of the window from within your home.
Our Double Hung Tilt windows create a sophisticated look in your home while providing practical functionality. They contain a double-sash design that tilts inward with a full-size screen. This practical, yet gorgeous composition allows for fresh air to enter when opened, while ensuring extraordinary thermal security when closed. As such, our creative team of engineers has revitalized this popular window design to optimize your ventilation needs without sacrificing the look of your property.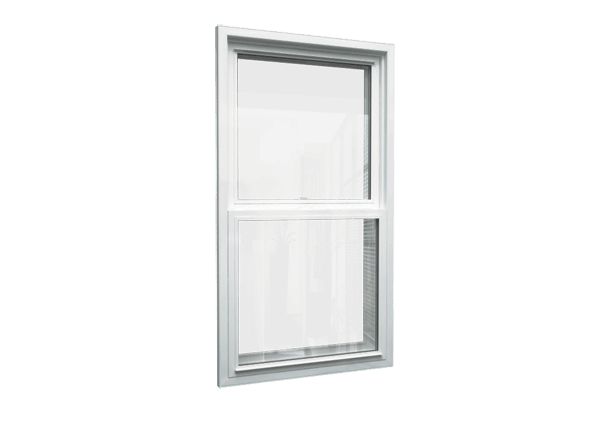 SECURITY – With only one direction of extension, our single-hung windows are easy to secure with an effortless lock design. This structure provides fewer points of failure on the window's locking system to ensure maximum security when locked. No longer will you have to fiddle with multiple fixtures to guarantee your home from being protected!
ENERGY EFFICIENCY – Our new and improved design features a stronger, more airtight composition to increase the energy efficiency of your home. This reduces the likelihood of moisture from entering, and the risks associated with the development of mold, mildew, water damage, and wood rotting. With less air infiltration, you will save money on heating and cooling costs all year round. Thus, providing you with a practical, yet resilient product for years to come.
SPACE EFFICIENCY – Single & Double Hung Windows are fantastic for smaller rooms (such as studies, bathrooms, guest rooms, etc.) and areas with high traffic (entryways, hallways, etc.). Their inward–opening design provides ample space for homeowners to move with ease. They are ideal for tight spaces and allow for ample natural sunlight to enter without sacrificing square footage in any room.
VERSATILITY – Available in a variety of finishes, our Single & Double Hung Windows are customizable to fit your needs. We offer a multitude of options when it comes to style, wood, trim and shape. 
Hung Window features
Fully welded frame and sash
Pocket sill for added security and protection against wind and air infiltration
Triple, fully replaceable weather stripping around both sashes
Stainless steel constant force balances
Color-keyed cam locks
Dual ventilation limit latches
Fullscreen with high strength screen cloth
Double strength, hardened, 7/8" insulating glass with INEX warm edge spacer
Energy Star R qualified with optional low – E / Argon glazing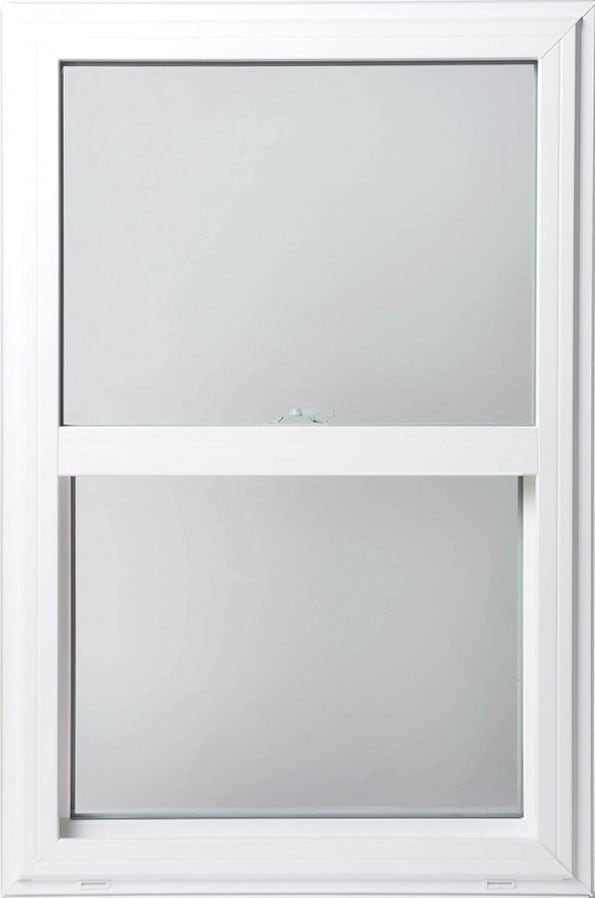 Construction: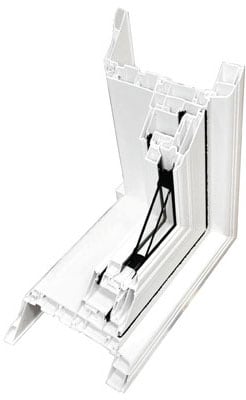 Sealed glass unit has 13/16″ overall thickness
Depending on the model, glazing of different types and thicknesses can be applied, including single, double, triple and Low-E glazing as well as a glazed decorative panel (3/4″ to 1-1/8″)
Fusion welding corners provide an attractive appearance & eliminate the need for adhesive and sealants. There are no imperfections on the completely watertight and airtight surfaces. Internal walls are also welded for increased overall structural strength
The opening mechanism and high-security multi-point locking system come with stainless steel hinges and tracks. Hardware mounting is done through a minimum of two uPVC frame walls for secure and durable fastening
These windows have the highest number of internal air chambers, giving them outstanding insulation and sound abatement qualities, as well as thermal efficiency and increased sturdiness
A choice of maintenance-free PVC jamb extensions, frame moldings and corner blocks are available to enhance inside finishing.
Windows Installation
Installation is crucially important for a good performance and a long lifespan of a window. Therefore we work only with experienced teams of installers who know their job and are true professionals of the industry. Our experts are capable of doing the following types of window installation: retrofit, stud-to-stud and brick-to-brick.
Retrofit installation features:
fast and inexpensive compared to other types;
involves window sash removal only;
frame and both exterior and interior trims stay untouched;
ideal for situations when the existing window frame is in a good condition
Stud-to-stud installation features:
the old window frame is completely removed up to the house framing;
aluminum flashing finish with caulking for the exterior – to ensure resistance to water;
choice of interior jamb and trim;
perfect for replacing windows with damaged frames and/or with poor insulation;
provides better energy efficiency compared to retrofit
Brick-to-brick installation features:
the old window frame is completely removed up to the house framing;
vinyl brickmould is applied on the new windows; the gap between vinyl brick mould and wall is insulated with foam and sealed with caulking;
choice of interior jamb and trim;
perfect for replacing windows with damaged frames and/or with poor insulation;
provides better energy efficiency compared to retrofit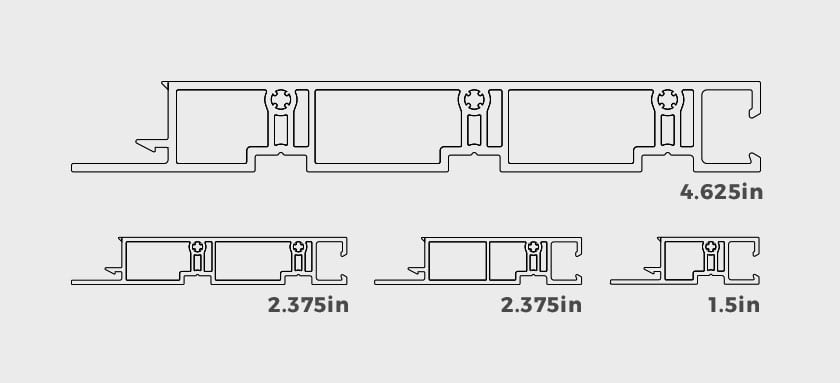 Jambs and interior finishing options
There are four standard vinyl jamb sizes available for the installation of your windows. Besides, at Northview, we can also provide wood jamb extensions as well as corner blocks and frame mouldings – just to ensure our customers receive smooth and beautiful looking windows.
Brickmold
Our brickmoulds are manufactured from durable and maintenance-free PVC powder compound and provide a year-round excellent performance in the Canadian climate. Our brickmoulds are available in a variety of sizes and colors so your new windows can blend seamlessly into the exterior appearance of your house.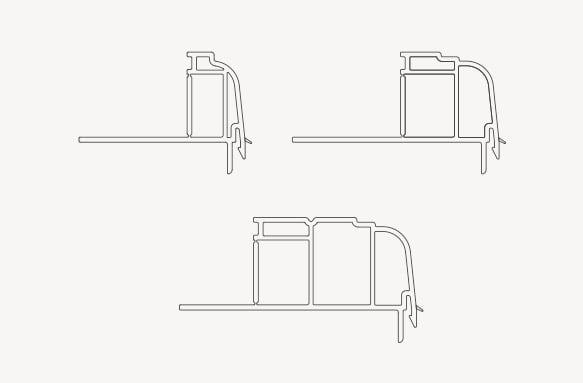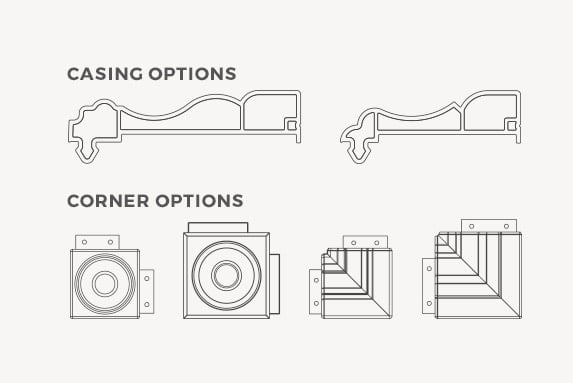 Trim options
We offer a large assortment of vinyl trim options for the exquisite and stylish finishing touch. The aesthetics of our trims are enhanced by advanced technology which ensures the material will stay durable and free from color changing for years. We offer a standard and custom palette of colors.