Garage doors are an essential part of the daily living of single-family homeowners, and the comfort of having a well-performing, insulated garage door is hard to underappreciate.  While such properties as quality and ease of operation, proper insulation are key features people consider first when being in the market for a garage door, for some reason the design is the feature that is always being somehow overlooked and limited to the choice of colour at the most. One of the reasons, of course, is that many window and door selling companies offer very limited design options when it comes to garage doors – they focus more on windows and exterior doors which is their main product and garage doors are often being neglected.
Innovative design
At Northview, we think differently and after thorough market research, we have decided that many customers would actually like to see unconventionally designed garage doors. And this is an absolutely logical thing – a garage door is an integral part of the house exterior, it is located right next to your front entrance and if you want to increase the curb appeal of your house, it just doesn't make sense to take care of the front exterior door only and ignore the garage one.
Our new line of overhead contemporary garage doors is a continuation and addition to our bestselling collection of contemporary exterior doors – this way our customers' façade can have an impeccable streamlined appearance with the part of garage entrance blending in smoothly and perfectly into the overall exterior design.
The garage doors have a solid wood appearance due to microgrooves and therefore combine the warm look of wood and the durability of steel. The grooves have clean and simple lines so they are a great addition for contemporary styled homes.
High performance
The new garage door models not only have a spectacular appearance, but they demonstrate excellent performance and insulation level. They come available in two different widths – 8ft or 16ft.
We use 2" thick flush panels in steel with polyurethane insulation which has 17.54 R-value. Our garage doors are thermally-broken for additional weather protection.
Our doors have a clean and complete look on both outside and inside. They come with white powder coated hardware, including hinges, struts and tracks for a nice and neat finishing touch on the inside of the door. Our garage doors are equipped with the highest quality nylon rollers which will ensure the most smooth and quiet operation.  Also, these doors operate with heavy-duty and high-cycle springs which provide a longer life span and make a product you can rely on every day.
Smart investment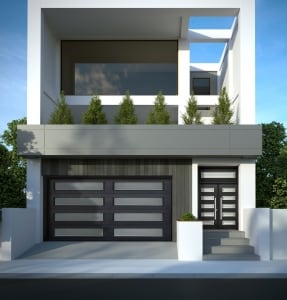 One of the important factors in replacing the garage door is that it can tremendously increase the value of your house. The latest research of Remodeling Magazine showed that if you were to sell your house, then garage door replacement costs would be recouped at about 90%. This shows that garage door replacement is definitely a good and worthwhile investment a homeowner can benefit from.
To sum it up, contemporary garage doors by Northview include everything you can expect from a modern overhead garage door. They are built with outstanding quality, exceptional workmanship and high value. By choosing to install it, you will be getting a system in your house which is highly functional and makes a long-lasting impression as well, being an attractive focal point.
Contact Northview Canada
Fill the Form! Get the Price
This form does not exist