Each historic period, every new époque brings new transformations, new social, political, cultural developments, as well as notable changes in the city's architecture. The latter is strongly influenced by the current trends in the society reflecting versatile preferences of various communities.
The city of Toronto has a lot of interesting historic districts, including residential areas. Homeowners considering window replacement in Toronto, as well as other interested individuals may be curious to know the roots of their neighbourhoods and how the architectural appearance was formed. In this article, we will talk about Georgian and Victorian houses.
Georgian houses – beginning of the 19th century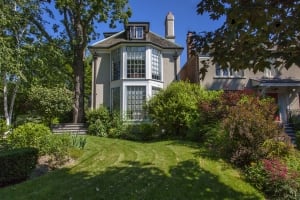 Back in the first half of the 19th century, Toronto's elite welcomed Georgian architecture and there are still examples of the houses built in that style which survived till today. This architectural style was Toronto's favourite throughout the 19th century due to ongoing connections with Great Britain, and also because of the influence of the Colonial Revival style popular in the US in the 1890s.
Toronto's oldest examples of Georgian-style houses are Campbell House and The Grange.
Georgian style manors are still popular and being built nowadays in Toronto. If you happen to walk in some wealthiest neighbourhoods such as Rosedale or Bridle Path, you can easily find many of them there.
Georgian window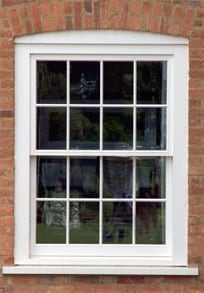 If you think about installing Georgian-style windows, then it is a good idea to familiarize yourself with some historic architectural facts. Georgian architecture's classic windows were called sash windows and consisted of 2 panels. Each sash panel is comprised of 3 x 2 glass panes (6 panes in each), held together by glazing bars. Therefore the classic Georgian window is a "six over six" panel window.
If you want your house to resemble Georgian architectural style, then you should consider installing single-hung or double-hung windows. In modern windows, there is no more need for glazing bars as technology allows creating rather large glass areas, but in order to keep the glazing bar appearance, modern windows offer internal grills. Therefore adding Colonial internal grills to your single hung or double hung windows is a must if you want to achieve the closest to authentic Georgian architecture appearance. Sometimes, instead of single/double hung windows, homeowners install casement windows with Colonial grills.
Internal grills not only add the desired style but are also maintenance-free because they are sealed inside the insulated glass unit and therefore do not require cleaning.
Victorian houses – end of the 19th century
At the end of the 19th century, Toronto became overwhelmed by Victorian architecture with its numerous revival styles. Several oldest neighbourhoods of Toronto demonstrate pure Victorian-style housing and one of them is Parkdale which is notable for hosting one of the largest collections of Victorian residences in North America.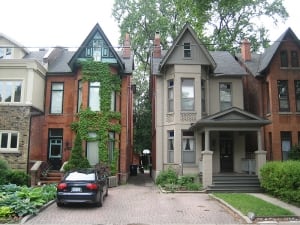 Toronto created its own distinct variation of the Victorian-style house – a house called "bay-and-gable". This design successfully combined traditional Victorian elegance with simplicity and affordable cost. It was very popular among low and middle-class Torontonians and its layout could easily nestle in the narrow lots of the city. Redbrick bay-and-gable houses were built abundantly till the beginning of the 20th century and hundreds of them survived till nowadays in the areas of Cabbagetown and Little Italy.
A typical bay-and-gable home features an oversized bay window covering more than half of the facade and a gable roof over it. It is semi-detached and has 2-1/2 levels.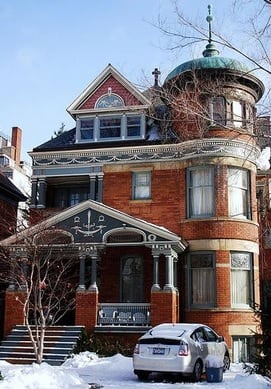 If the bay-and-gable house was the preference of low and middle-class citizens, then wealthier and elite Torontonians were building houses in the unique style known as the "Annex style house". Annex house includes elements borrowed from other styles such as Romanesque and Queen Anne Style. These houses were large in size and had lots of arches, turrets, domes and other elements of architectural decor.
Toronto's heritage residential homes create the city's unique look and while the historic aspect is quite important, it is also important for homeowners to have comfortable living conditions which include having insulated energy-efficient windows and doors. At Northview Windows and Doors we can offer the best solutions in window and door replacement and make sure your new UPVC windows, as well as steel or fiberglass doors, match the overall appearance of your house. Do not hesitate to give us a call talk to our specialists and find out about available products and customization.
Contact Northview Canada
Fill the Form! Get the Price
This form does not exist