4 contemporary style front entrances presented by both double and single doors.
Contemporary DI09 model in a double door with full glass sidelights configuration is just gorgeous and creates a rich looking entrance boosting up the curb appeal of the house.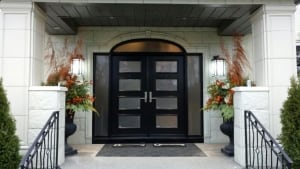 Eclipse double door is a perfect find for this beautiful entrance – lots of light, yet privacy with acid etched glass in doorlights, full glass sidelights and an arched transom. Multi-point lock with modern Emtek trim for security and great performance.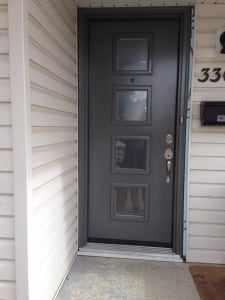 A single entry door with Omega glass inserts is a popular model among homeowners who want to make a fresh and modern design statement and let in some natural light.
This door is a custom variation of one of our bestselling designs – Delta model. In this door the customer decided to keep the glass inserts only at the top and complemented the look  by adding a horizontally installed pull handle model 2593.
Save
Save
Save