Not so long ago, bay windows could be seen mainly in some ancient buildings and were not very popular for quite a long time. Today, more and more architects and homeowners favour bay windows and understand the benefits of having them. Besides the advantages of bay windows discussed in the previous article, such as creating an additional retreat area and letting in more sunlight, bay windows have another invaluable benefit – it is an excellent place to have the extra storage we all need no matter how big the house. The ideas of how to use this extra space for storage, as well as how to decorate it are truly endless and limited only by the flight of your imagination. When it comes to bay window treatments, there are certain recommendations, but they are designed only to give you some ideas and are not strict guidelines.
Choosing the right coverings for bay windows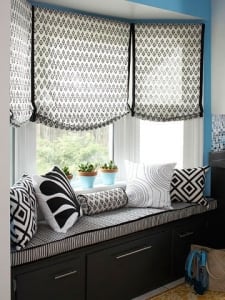 The guidelines for choosing the right windows coverings for bay windows are much the same as those for regular ones. Drapes, blinds, shades, even shutters can all be used as bay window treatments, however, you need to remember that bay windows are different from regular ones and standard ready-made window coverings may not work for them. Factors that will influence your decision of choosing a covering for your bay windows are the following:
treating the bay windows as a single unit or as separate panes
coordinating bay window coverings with the overall design of the room and other windows
availability of the chosen coverings in the appropriate size and shape
Single unit or multiple panes? 
Though bay windows always have multiple panes, you can treat them as a single unit. One way to do this is to hang curtains outside the bay. In this case, the curtain rod is placed at the top of the bay opening and separates the window area from the rest of the room. When the curtains are closed, the window area will not be visible and will be treated as a regular window. This is an excellent solution if you choose not to cover your bay windows, but still, need privacy, or if you want to create a small retreat area, where you wouldn't be disturbed. Another reason to cover the bay window area from the outside is the difference in design between this area and the rest of the room. For example, if you have plain and simple blinds on your bay windows, but choose to have richly patterned jacquard curtains on your other windows, instead of replacing the blinds, you can hide them by hanging the same jacquard curtains outside the bay.
If you choose to treat your bay windows as multiple panes, the solutions for covering them will be limitless. Custom-made blinds, shades, drapes or valances with custom-made rods are all possible ways to cover bay windows.
Blinds, shades and shutters for bay windows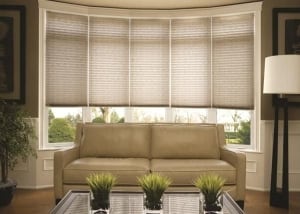 Blinds are the most popular way to cover bay windows. Today, most manufacturers of blinds are able to customize them to your needs, so in most cases, you shouldn't worry about finding the right ones. Blinds are very popular as they fit snugly into the window panes, are adjustable to regulate the amount of light you want in, offer privacy whether open or closed and come in many different finishes – from plain white to walnut and mahogany. Blinds are also a good choice for bay windows that have a built-in bench or a chest of drawers: the blinds will snugly cover the windows without interfering with the built-in unit.
Shades are a more economical way of covering bay windows, but also more simple. The disadvantage of shades is that they do not offer any privacy when open. However, the wide array of patterns and materials for shades will allow beautifying the bay window area without breaking your budget.
Shutters are another way to cover bay windows, but less popular and more expensive than blinds and shades. This type of window coverings is appropriate in the following cases:
 if they form a part of the overall design of your house
if you need full blockage and ultimate privacy offered only by solid-panel shutters
if you need to have them painted in a colour that is not suitable or common for blinds or shades
The type of covering you will choose for your bay windows will also depend on the type of window construction. Most bay windows are constructed as casements with a fixed central window, but there are other types too, like double-hung windows. In any case, while choosing coverings for your bay windows, you have to make sure that they do not block the windows so that you are not able to open them.  If you are in doubt, you can always contact us and ask your questions to one of our highly-qualified window specialists.
Drapes for bay windows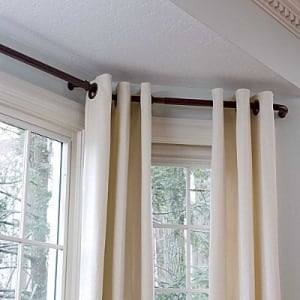 If you do not favour blinds or shades, but rather prefer regular curtains, you can still have them for your bay windows. Custom-made curtain rods will allow you to hang your curtains not outside the bay, as we discussed earlier, but right at the top of the windows. The solutions here will be as many as there are types of curtain fabrics in the market.
Last, but not least factor that will influence your choice of window coverings is what you choose to have in your bay window area. Ideas are limitless, but we will discuss only a couple of them to give you a starting point.
Storage solutions for bay window area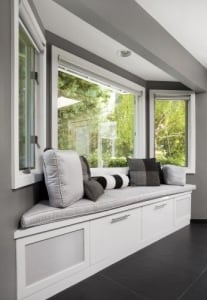 One of the most useful, thus most popular storage solutions for a bay window is a built-in bench. A built-in bench with a comfortable custom-made cushion will not only become a comfort zone where you can snuggle up with your favourite book or enjoy the picturesque view offered by your bay windows, but it will also give you some hidden storage space, where you can keep the extra stuff you can't find a place for. If your bay windows are in the kitchen, you can keep your extra pans and pots that you don't use very often; in case your bay windows are in the living room, the built-in bench is an excellent place to keep the extra cushions and blankets. Book lovers can have bookshelves built on both sides of the bench to keep all their favourite books close at hand.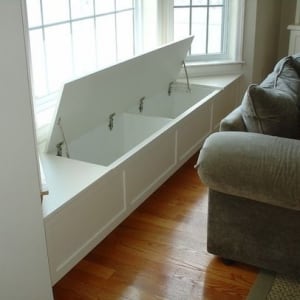 A built-in chest of drawers is another way to customize your bay window space. If you don't need an extra seat in your living room, a chest of drawers might be a wonderful option for you.
If for some reason you don't want to have a permanent construction in your bay window area, you can put a nice side table with flowers that will nicely complement and refresh the room décor.
Whatever you choose to have in the extra space that bay windows offer, remember that it should be customized, so most probably you will need to consult with a professional to see if the solution you have chosen is appropriate for the space you have.