Sliding Patio Doors
Northview has been adorning its customers' patios with the most beautiful and reliable sliding doors in Toronto and southern Ontario for many years. In fact, such doors have virtually no contest.
The manufacturing process involves the use of 100% rigid lead-free UPVC which is extruded into multi-chambered profiles to ensure excellent structural integrity and increased insulation over a number of years.
The most optimal thermal performance of every patio door we make is achieved through a number of factors, such as use of a double seal all the way through the perimeter, installation of one-inch thick insulated glass with Argon gas filled in between panes and Low-E coating, use of Edgetech Super Spacer® in the glass unit.
Durable and strong, with reinforced welded sashes, our premium quality doors for your patio are virtually maintenance-free and have a strong resistance to rust and corrosion.
You can choose from two, three or even four-panel configurations, stylize the look by adding grills to the glass, select one of the locking options and have your door made in one of the assortments of non-fading colors.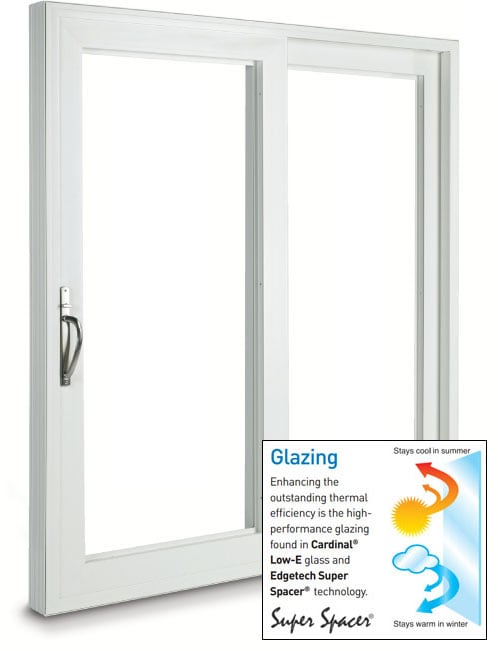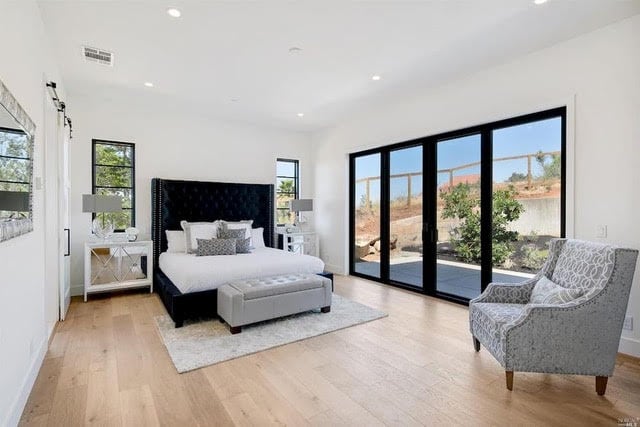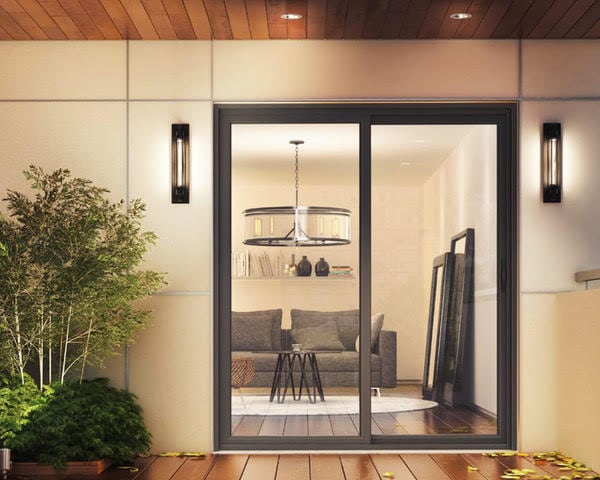 Standard Features
Oversized sash frames create an opulent luxurious look;
Soft-touch fin weather strip coupled with precision tandem rollers give a smooth and effortless gliding action not found on other doors;
Flush mounted screw covers at exposed screw ports along with jamb pocket covers, in and out, and discretely hidden bumpers give a smooth finished wood with no visible installation screw;
Special multi-finned weatherstrip at both top and bottom interlock position effectively reduce air infiltration;
Twin point lock with inside and outside pulls in paint finish is standard;
Superior 2" x 1/2" screen with fiberglass mesh, adjustable steel rollers, lock with pull handles and heavy-duty zinc keepers;
1" low e argon sealed units backed by a lifetime warranty;
The industry's most comprehensive warranty and customer support policy.
Standard Accessories
6 Standard Brick molds: Zero degree, 5/8", 1 3/16", 1 1/2" and 4";
Vinyl interior extensions. Wood and foam board cut to size suitable for any wall depth;
Interior vinyl casing in 2 3/8" and 3 3/8" sizes;
Transoms and Sidelites that integrate seamlessly.
Optional Extras
Hundreds of standard paint colors (color match program also available);
10 standard wood grain to choose from;
3 distinct upgrades lines;
Secondary security locks;
Hi-efficiency glass packages for energy savings and general home comfort.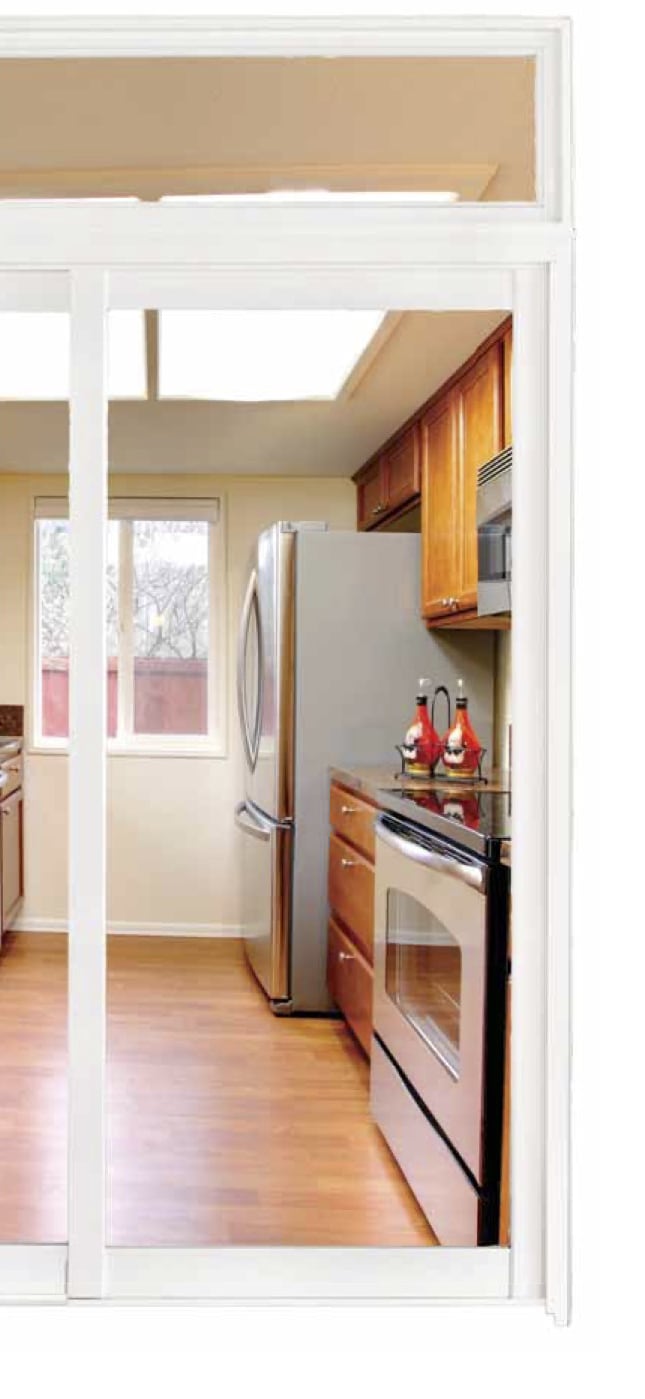 Color and Wood Grains, Grills
Color
Choose from hundreds of standard colors from major manufacturers' color palettes or use our color matching service to provide an exact match to your decor.
Wood Grain
An innovative coating system is able to predict a near authentic wood grain look that is simply not available by laminates and you can choose from 10 different standard looks.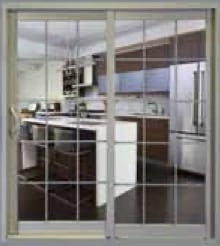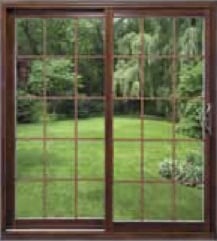 Exterior Grills
Recreate the look of individually divided glass panes with simulated divided lites (SDL). By using a "shadow" bar between the glass and contoured mullions on the interior and exterior of the glass the recreation is almost exact. If you choose color or wood grain your SDL's are coated with your door. SDL's come in 1" and 2" widths.
Interior Grills
Grills between the glass come in a variety of shapes, sizes and contours. They come in various finishes to compliment your door color be that color or woodgrain or something flashier like our metallic finishes. The options are endless!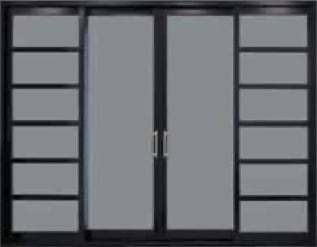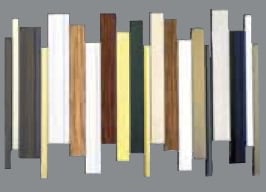 Hardware and Secondary Security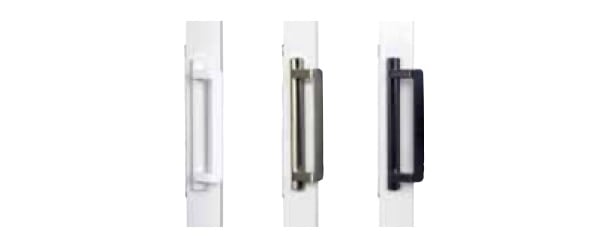 Standard "Siena" series with Twin-Point Lock
The standard hardware package. Comes in black, white and split-finish black out/white in. Keyed option is available on all "Siena" series locks.
"Verona" Series
Comes with Twin-Point Lock. This series also come in 7 stunning metallic finishes (from l to r). Brushed chrome, Antique brass and Black nickel (oil-rubbed bronze also available but not shown). Keyed options is available on all locks.
"Sorrento" Series
This grip set series display a more contemporary look. The square d-handle fits perfectly with modern decor and design. The "Sorrento" is available in black, white, split-finish black out/white in and satin nickel. The keyed lock option is not available in this series. 
"San Remo" Series
The "San Remo" series comes in two distinct versions. Both feature an easy to use thumb-turn. "San Remo Slim" features a slimline interior and exterior grips. "San Remo D" has and ergonomic D-type pull handle. Both handles are available in black, white, split-finish black out/white in and satin nickel. The keyed lock option is not available.
Secondary Security
For additional security and general peace of mind we offer kickbacks and topbolts as secondary security in addition to our twin point lock.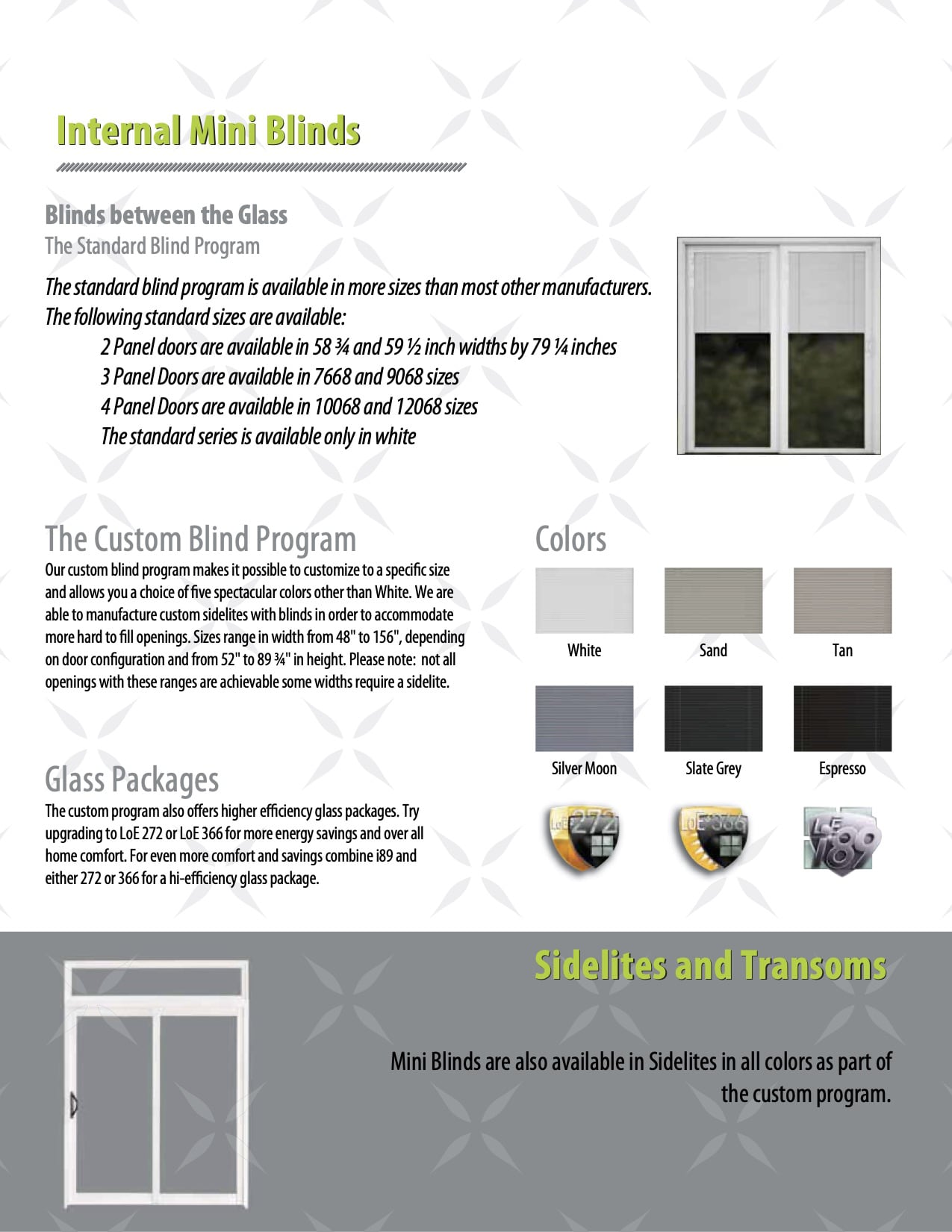 Quote Form
[[[["field45","contains","Windows"]],[["show_fields","field47"]],"and"],[[["field45","contains","Exterior Doors"]],[["show_fields","field77,field65,field48,field49,field74,field75,field76,field64,field78,field79,field80"]],"and"],[[["field45","contains","Bi-Folding Doors"]],[["show_fields","field52,field53"]],"and"],[[["field77","contains","Contemporary Entry Doors"]],[["show_fields","field58"]],"and"],[[["field77","contains","Transitional Entry Doors"]],[["show_fields","field66"]],"and"],[[["field77","contains","Traditional Entry Doors"]],[["show_fields","field67"]],"and"],[[["field77","contains","Decorative Glass Doors"]],[["show_fields","field68"]],"and"],[[["field77","contains","Doors With Wrought Iron Inserts"]],[["show_fields","field69"]],"and"],[[["field77","contains","Steel Doors"]],[["show_fields","field70"]],"and"],[[["field77","contains","Custom Fiberglass Shaped Doors"]],[["show_fields","field71"]],"and"],[[["field77","contains","Overlay Collection"]],[["show_fields","field72"]],"and"],[[["field77","contains","Doors With Simulated Divided Lites"]],[["show_fields","field73"]],"and"],[[["field77","contains","Steel Doors"]],[["show_fields","field82,field84"]],"and"],[[["field84","contains","Choose Other"]],[["show_fields","field85"]],"and"],[[["field77","contains","Contemporary Entry Doors"],["field77","contains","Transitional Entry Doors"],["field77","contains","Traditional Entry Doors"],["field77","contains","Decorative Glass Doors"],["field77","contains","Doors With Wrought Iron Inserts"],["field77","contains","Custom Fiberglass Shaped Doors"],["field77","contains","Overlay Collection"],["field77","contains","Doors With Simulated Divided Lites"]],[["show_fields","field81"]],"or"],[[["field81","contains","Choose a Paint Color"]],[["show_fields","field82,field84"]],"and"],[[["field84","contains","Choose Other"]],[["show_fields","field85"]],"and"],[[["field81","contains","Choose a Stain"]],[["show_fields","field83"]],"and"]]
keyboard_arrow_leftPrevious
Nextkeyboard_arrow_right
FormCraft - WordPress form builder