Custom Fiberglass Shaped And Arched Doors Collection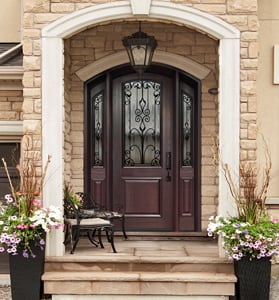 For those design savvy homeowners who opt to add an extra flavour of richness to their entryways, Northview offers a wide selection of versatile custom door shapes. Instead of traditional rectangle shape doors, you now can now have your door made with the top of any shape.
This makes it really stand out and instantly boosts the curb appeal. Radius curved pre-hung door systems can be made in virtually any configuration – single door, double door or door with two sidelights, and they may have transoms added as well.
Manufactured with precision and built according to the industry's highest standards, custom shape doors perform flawlessly. Advanced customization of our shaped doors is also possible due to the use of executive panels. Such panels made of fiberglass are being inserted into flush slabs in a way similar to decorative glass inserts. They produce deep shadow lines and create visual dimension, adding to the elegance and versatility of your door system.
Whether the door of your choice has a contemporary geometric design, a classic executive panel or wrought iron glass style, switching from a traditional slab and frame shape to a curved one is a well worthy transformation which will bring your entryway appearance to an all new luxury level.
Fill the Form! Get the Price
[[[["field45","contains","Windows"]],[["show_fields","field47"]],"and"],[[["field45","contains","Exterior Doors"]],[["show_fields","field48,field49,field56,field58"]],"and"],[[["field45","contains","Interior Doors"]],[["show_fields","field50,field51,field59"]],"and"],[[["field45","contains","Bi-Folding Doors"]],[["show_fields","field52,field53"]],"and"],[[["field45","contains","Garage Doors"]],[["show_fields","field54,field55,field60"]],"and"],[[["field45","contains","Siding"]],[["show_fields","field62,field63"]],"and"]]
keyboard_arrow_leftPrevious
Nextkeyboard_arrow_right
FormCraft - WordPress form builder