Fiberglass Bi-Folding Doors
Are you looking for the ultimate external bi-fold door? At Northview, we provide the finest on the market for your personalized needs! Every detail has been beautifully engineered to make your doors unlike any others on the market.
We believe in providing the versatility and customization you deserve in making your home the best it can be. We would never want you to settle for less, which is why we make it a point to allow room for creativity when it comes to the designs and look of our bi-fold doors!
These doors are absolutely amazing and capable to make a stunning transformation of your space. They are secure, reliable, weatherproof and aesthetically appealing.
To engineer these sophisticated and flexible doors we paired state-of-the-art machinery with quality workmanship and equipped the system with guides and pivots using high grade stainless steel bearings, smart design carriers, nd sills are made from aluminum extrusions which provide excellent structural strength and stability. With maximized weight-bearing capacity of our bi-fold doors, their application is only limited by the designer's or architect's imagination.
Double glazed panels allow to achieve outstanding insulation levels against outside noise and temperature. The doors are built to fit snugly against weather seals and have passed toughest water and air infiltration tests demonstrating a superior resistance to both. For instance, their air infiltration level 50 times exceeds the one of a sliding door.
Our ingenious bi-fold system will create a flexible opening with a sense of expanded space, and when closed shut it will give you protection of a fixed wall, standing up to the challenge of a forced entry. For unparalleled security we use concealed fixings and hidden fasteners, which means no part of the system can be accessed from the outside to be removed or damaged. Each door system is also equipped with a GU multi-point lock.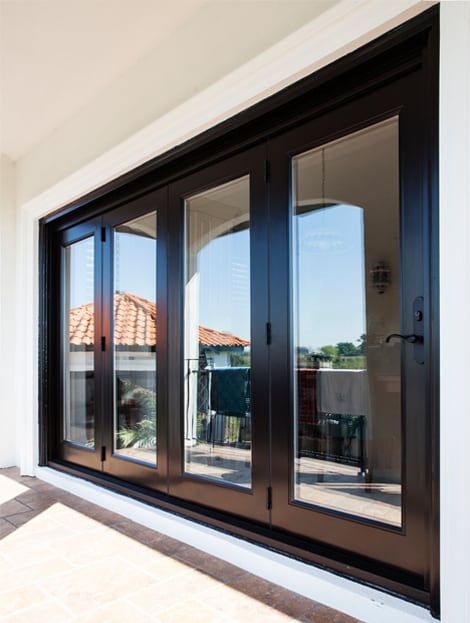 Reasons to Choose a Northview Bi-fold Doors
Technology
Northview bi-fold doors have demonstrated highest performance ratings and excellent durability. They can be used with complete confidence since all their components were extensively tested to ensure their conformity with the toughest industry standards. This means an compromised and trouble-free performance which will allow you to enjoy the product for many years.
Ease of Operation
With simply the touch of your fingertips, our high-class technology will allow even the largest doors to be moved quietly and efficiently in your home. Our stainless-steel bearings, pivots and carriers will provide customers with the smoothest transition between opening and closure – leaving no creaks or difficulties to be found.
Insulation
Like our amazing impact windows and French doors, our SIW bi-fold doors are designed to keep your home well insulated to keep cool air in, hot air out and your electric bill low! Our doors are created to reduce heat being transferred inside your home using light-deflecting technologies created for our customers.
Security
After installation, owners are guaranteed to enjoy all the benefits associated with the upgrade of their new bi-fold door. We make it our highest priority to ensure that all customers will be satisfied with the maximization of their new space in the smoothest, most flawless way possible.
Durability
Our NV bi-fold doors have been rigorously tested to ensure that they'll meet the toughest of industry standards. This means that owners will experience an incomparable, high-performing and durable product that will last for many years.
Versatility
Designed to protect your residence from the harshest weather, our NV bi-fold doors provide stunning, customizable panoramic views with its easily stackable gliding panels. Made with sound-proofing properties, customers will be able to enjoy the sunlight in silence.
Quality
Excelling in both function and aesthetic, our beautifully crafted product offers eye-catching designs made from premium materials in a variety of luxurious finishes. Whether you want to create a cozy entertainment area, enjoy a shoreline panorama or visually enhance the space of your home, NV bi-fold doors are the perfect solution for providing the highest of quality to your living.
Comfort
Easy to open and beautiful to look at, our customers will rejoice at the look of their new living space with the integration of their NV bi-fold door! We promise that you will be satisfied with the hassle-free transformation of your home, enjoying all the benefits that it will serve for your needs!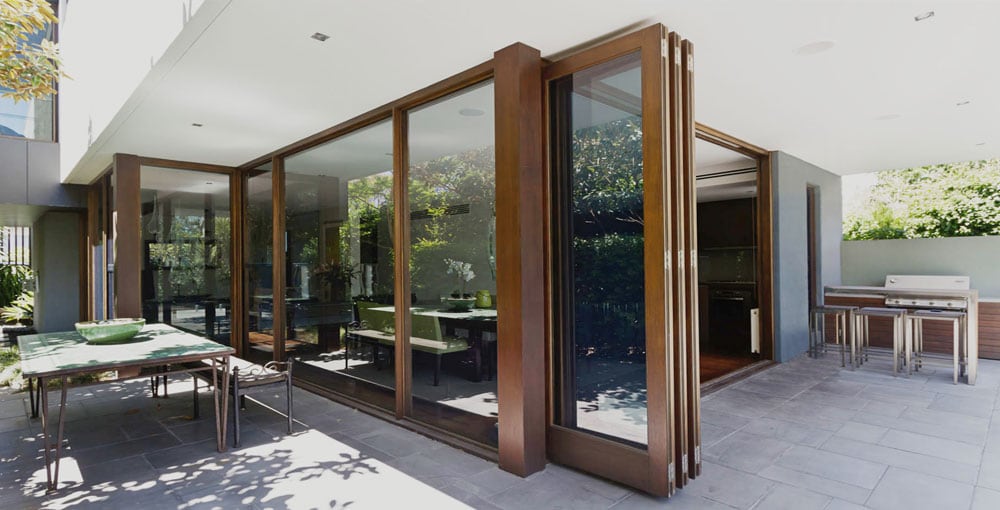 Technical Info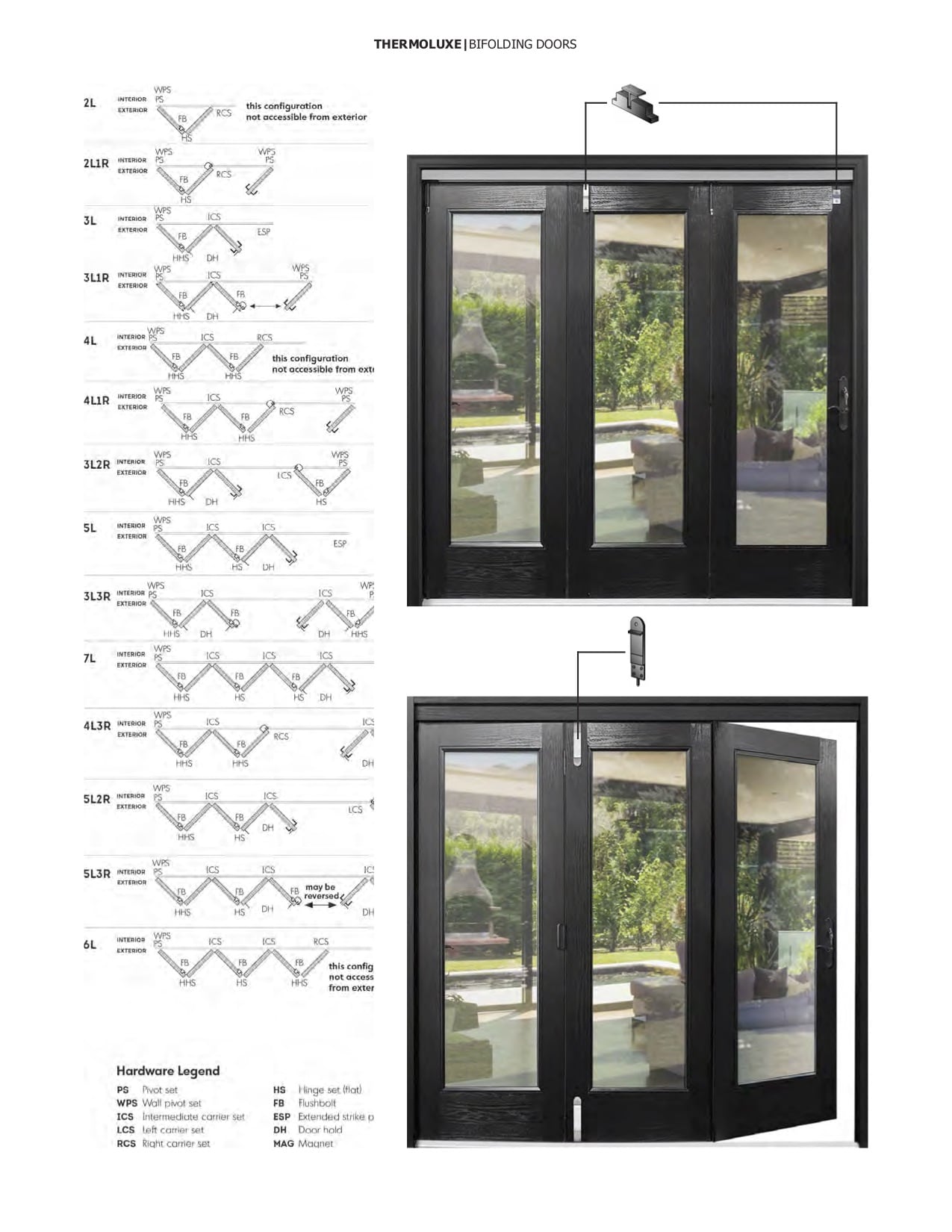 FOLDING PANELS
Northview bilold door systems can include up to 16 top track mounted panels with up to 8 panels sliding sideways each direction from the centre and arranging into a compact fold. Maximum panel height is 95", maximum panel weight is 100kg.
COMPONENTS & HARDWARE
Support track, guide channels and sill of our folding doors are made from aluminum extrusions which are structurally very strong. Operating hardware is available in high quality brass or stainless steel materials and when doors are closed such hardware becomes concealed and not accessible from outside.
Feel free to drop us a line by completing the form below and we will arrange a FREE and NO OBLIGATION, IN-HOME QUOTE.

[[[["field22","equal_to","Single"]],[["show_fields","field15"]],"and"],[[["field22","equal_to","single+1 panel sidelite"]],[["show_fields","field16"]],"and"],[[["field22","equal_to","single+2 panel sidelite"]],[["show_fields","field17"]],"and"],[[["field22","equal_to","Double"]],[["show_fields","field18"]],"and"],[[["field35","equal_to","Choose a Custom Paint"]],[["show_fields","field33"]],"and"],[[["field35","equal_to","Choose a Custom Stain"]],[["show_fields","field34"]],"and"],[[["field22","equal_to","single+1 full glass sidelite"]],[["show_fields","field36"]],"and"],[[["field22","equal_to","single+2 full glass sidelites"]],[["show_fields","field37"]],"and"]]
keyboard_arrow_leftPrevious
Nextkeyboard_arrow_right
FormCraft - WordPress form builder