Fiberglass Bi-Fold Doors
Northview's Rail n Stile Bi-Fold Doors offers you thinnest the bi-fold doors on the market with maximum light and outdoor visibility! It features a low profile, high glass design with customizable dimensions on request. The ingenuity of its bi-fold structure allows for a flexible opening which provides you the illusion of a larger, more open space.  You can ensure that your home will stay protected and stylish with our slim bi-fold collection! Designed with superior craftsmanship and high class materials, you can guarantee that your home will be welcomed with a flurry of natural sunlight and beauty.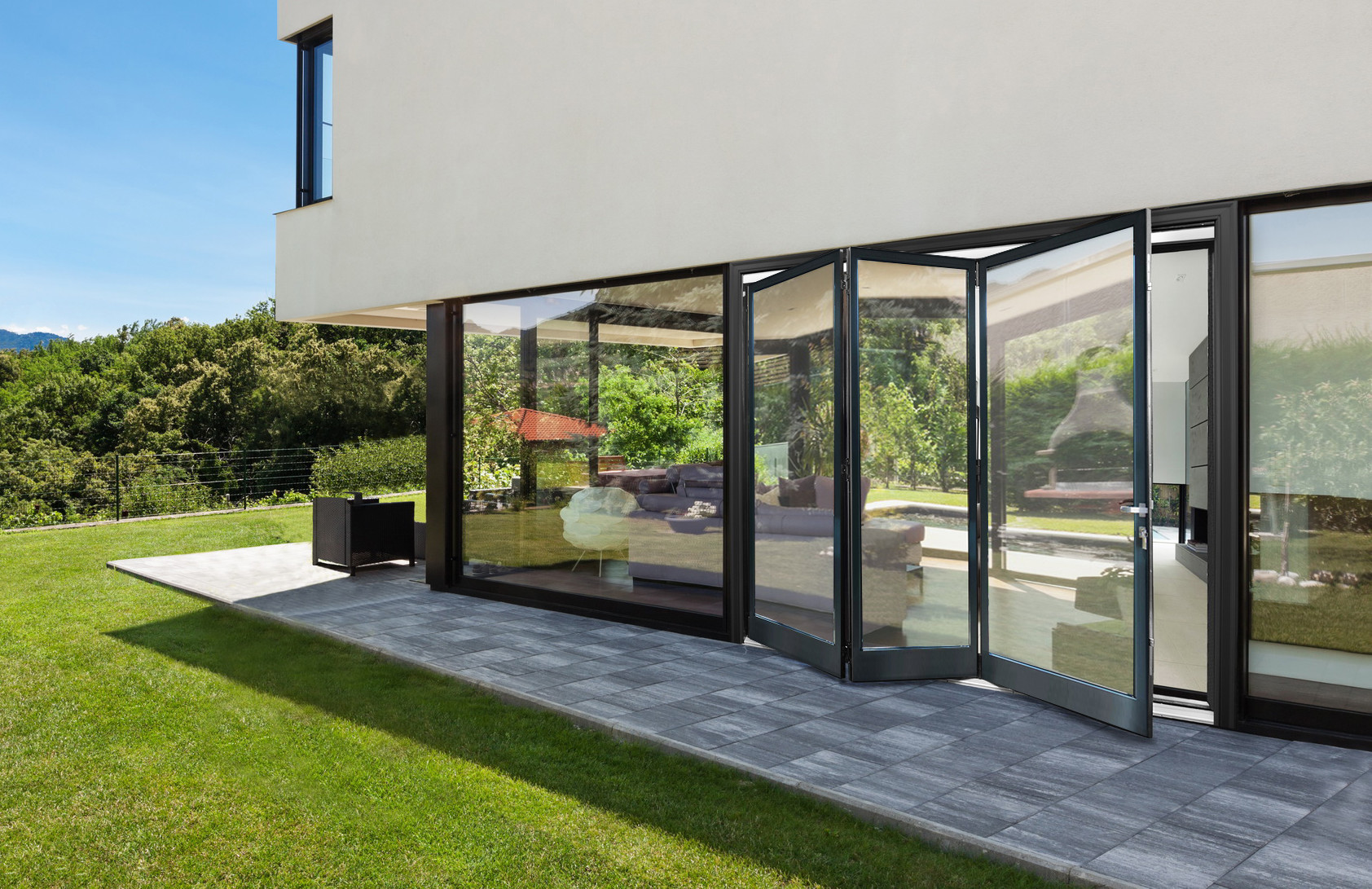 These doors are absolutely amazing and capable to make a stunning transformation of your space. They are secure, reliable, weatherproof and aesthetically appealing.
The Rail-n-Stile Bi-Fold Doors is recommended for 32/34/36/38 by 7' – 9' entries, but can be altered upon request. It is available in two distinct configurations (right to left; left to right) with two sill thresholds. 
Standard thresholds are the most classic and popular choice for our exterior door models. They offer great overall resistance against most climates and are ideal for most homeowners.
ADA low-profile thresholds offer excellent support and mobility for wheelchair use due to its low and unobtrusive design. It is best for high-traffic areas as well.

 
Reasons to Choose a Northview Bi-fold Doors
Technology
Northview Bi-Folds have been extensively tested to surpass industry standards regarding durability and performance. You can ensure that our products will last for many years to come. 
Insulation
Our Bi-Folds are designed to keep your home well-insulated and ready for unpredictable weather. Using light-deflecting technology and ADA certified weather stripping, you can guarantee to see your electric bill go down with time.
Durability
Resistant to a variety of climates, our Bi-Fold Doors has been rigorously tested to ensure its longevity for incomparable, high-performance for decades. 
Quality
Our beautifully crafted products are made from premium materials in a variety of luxurious finishes. They are bound to make a statement at your residence.
Ease of Operation
Made with stainless-steel bearings, pivots and carriers, our Bi-Fold Doors will allow even the largest doors to be moved quietly and smoothly without any hassle. 
Security
Designed with a GU multi-point lock system located on every panel, our Slim Bi-fold collection offers maximum protection without the bulk. 
Versatility
The stunning and customizable panoramic views of our bi-fold collection allow users to enjoy the beauty of nature without obstruction.
Comfort
Easy to use and beautiful to look at, you will love the sense of freedom that our Bi-fold doors can offer you!
Configuration
Passage set/lock, flushbolt, astragal & hardware placement for outswing applications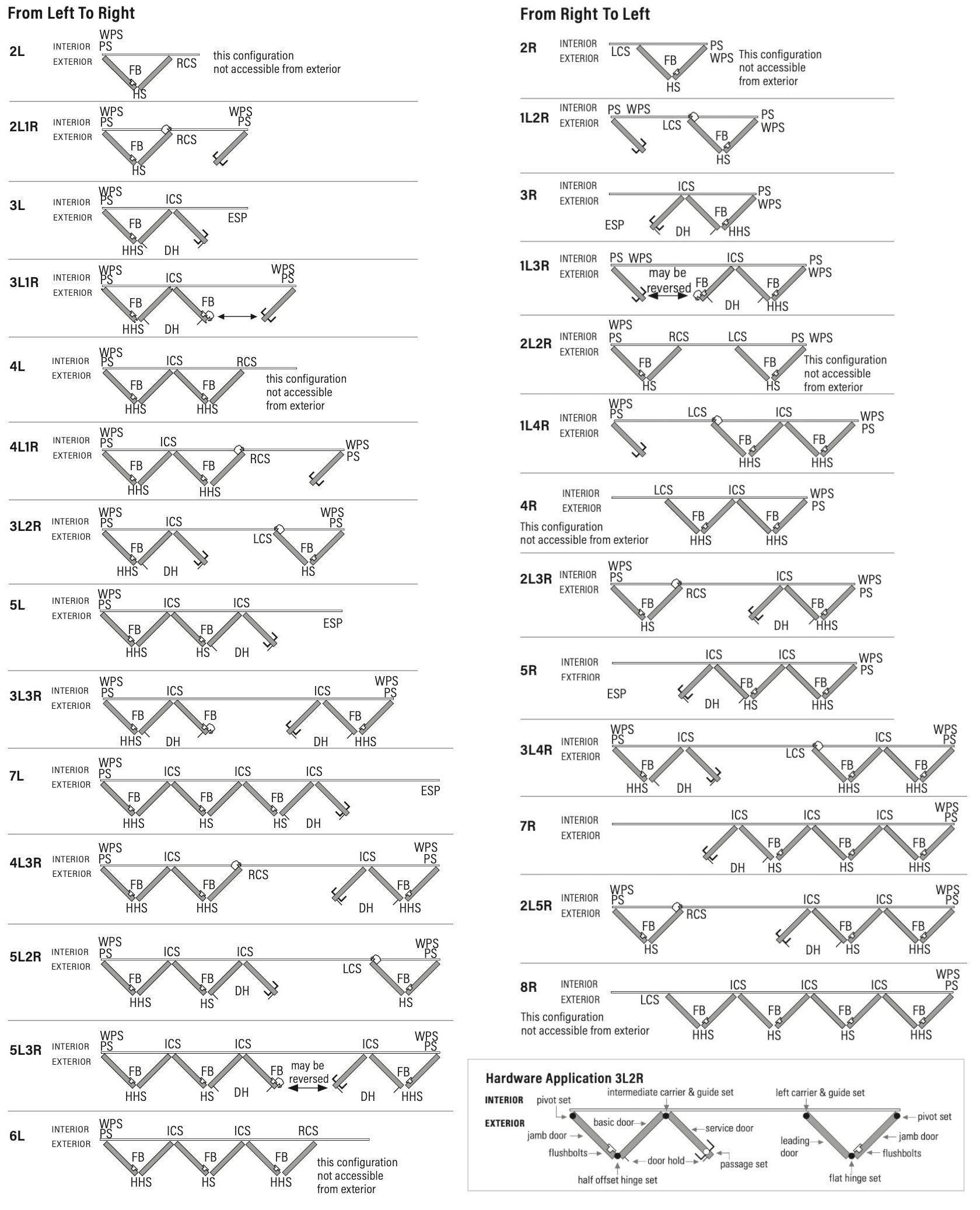 Architectural Detail

KT775 (6-9/16") OUTSWING SILL SYSTEM FOR 1-3/4" DOOR THICKNESS
Extrusion Alloy 6063 T5. Actual full sill width: 6-9/16" (166.7mm) channel sill for flushbolt or twinpoint
New generation sill with flushbolt pin channel.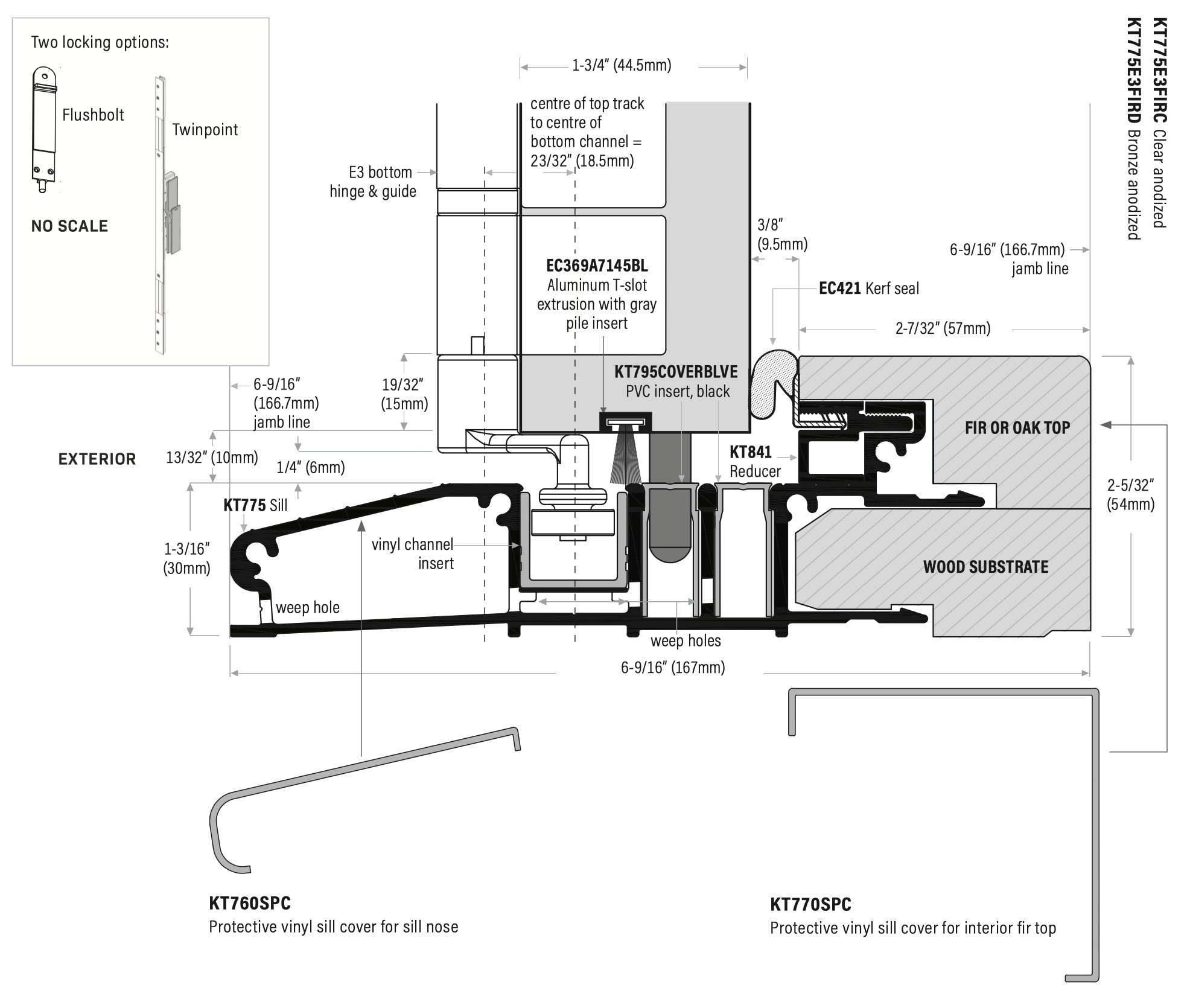 Also Available: KT795 (8") OUTSWING SILL SYSTEM FOR 1-3/4" (44.5MM) DOOR THICKNESS
Extrusion Alloy 6063 T5. Actual full sill width: 8" (203mm) channel sill for flushbolt or twinpoint
New generation sill with flushbolt pin channel.
Flushbolts For Outswing Folding Doors
Max wind load: 450kg (990lb) force
Min door thickness: 1-3/4" (44.5mm)
Throw length: 1" (25mm)
Finishes:
Bronze powder coat on aluminum to match pvd bronze finish on E3 hinges. Brushed metallic on aluminum to match stainless steel finish on E3 hinges. Bright gold (TG) finish on aluminum to match pvd brass finish on E3 hinges.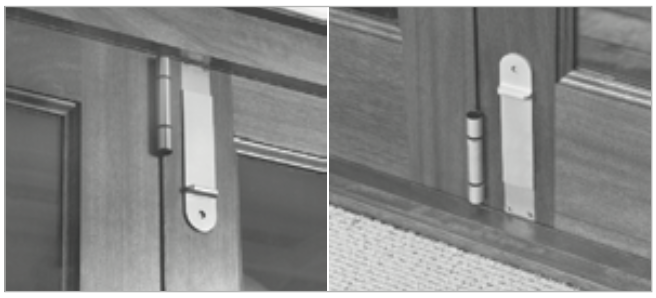 * Bright gold (TG) finish is custom order, call for manufacturing time.
The flush-mounted flushbolts, rounded style and 1" (25mm) throw are designed for use with sliding and folding doors. This flushbolt will resist high winds and is rated to resist a 250kg load in Western Red Cedar and 450kg in Amoora. The bolts are easily installed with a dedicated router bit and are available in three finishes.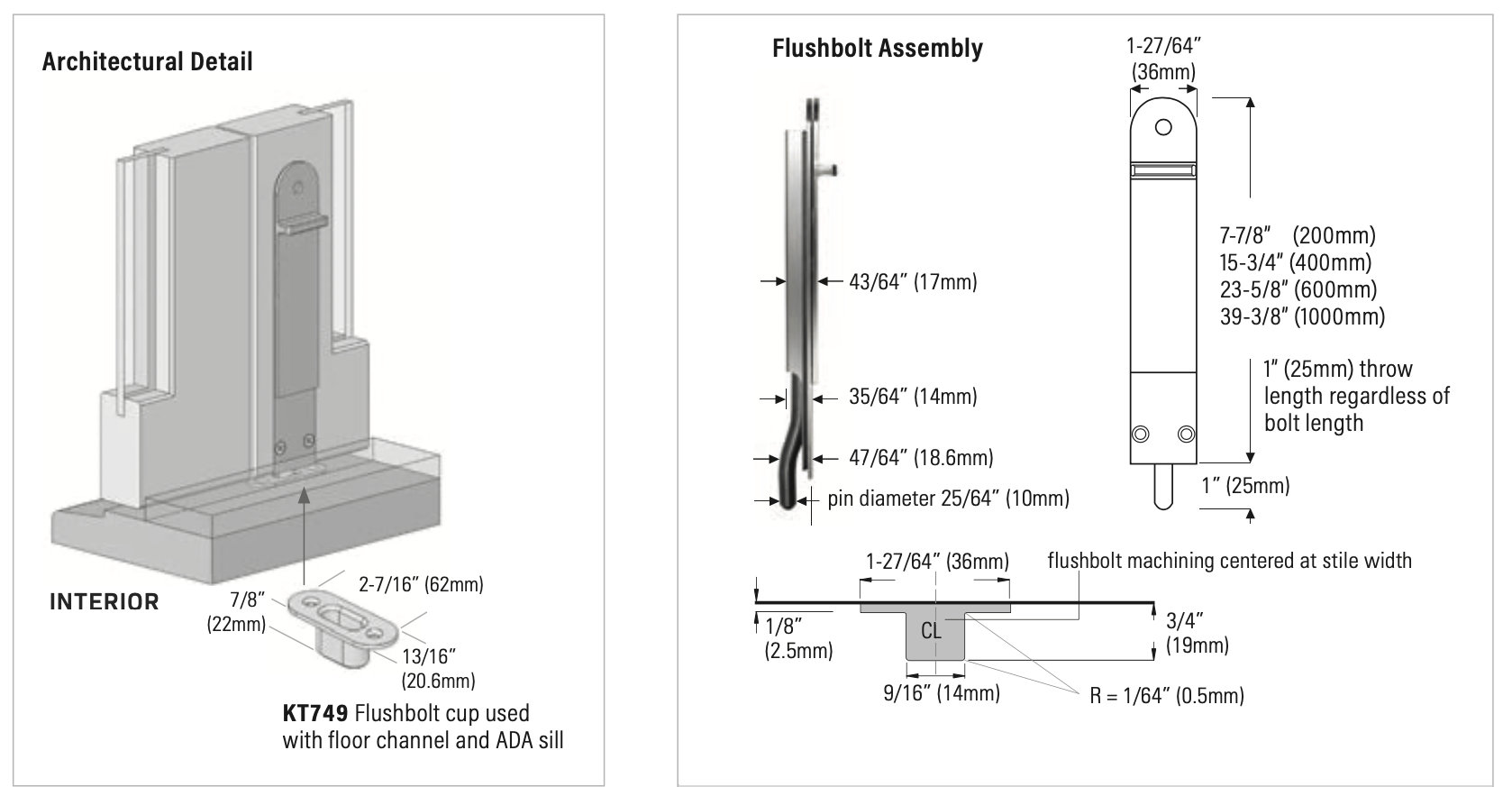 Door Hold For Exterior Folding Doors
The Door Hold is used to secure or hold the active swing door and / or doors in place to prevent possible damage in the event of wind slamming one panel into the next panel.
Stainless steel screws supplied with clear anodized unit.
Stainless steel screws (bronze colored) supplied with bronze anodized unit.
Installation Instructions
Install unit as shown in the picture, typically at the top of the door panels. Centre main unit on door stile, 1 to 2 inches (25 to 50mm) from the top edge of the door. Fasten in place with 1-1/2" (38mm) screws supplied. Fold all door panels to one side or both sides (depending on configuration) and align the T-unit with slot into the main unit and fasten in place with 1-1/2" (38mm) screws supplied. Adjust tension screws accordingly and lock in place with set screws (1/8" allen key supplied). Make sure the adjustment tension screws are evenly balanced; this will ensure that the T-unit slides into the slot of the main unit evenly.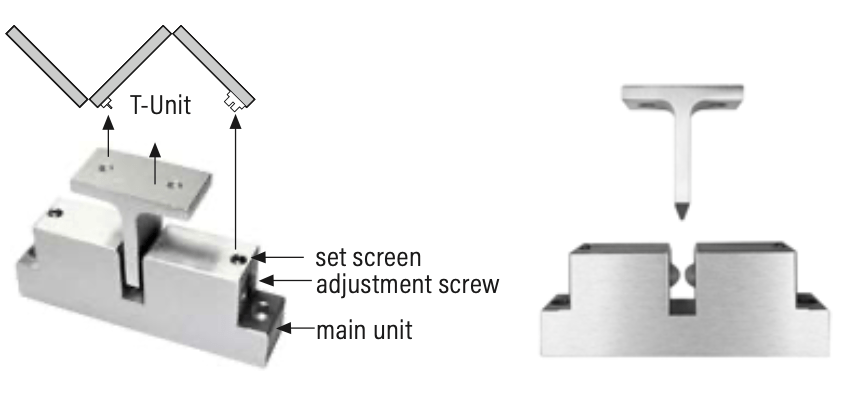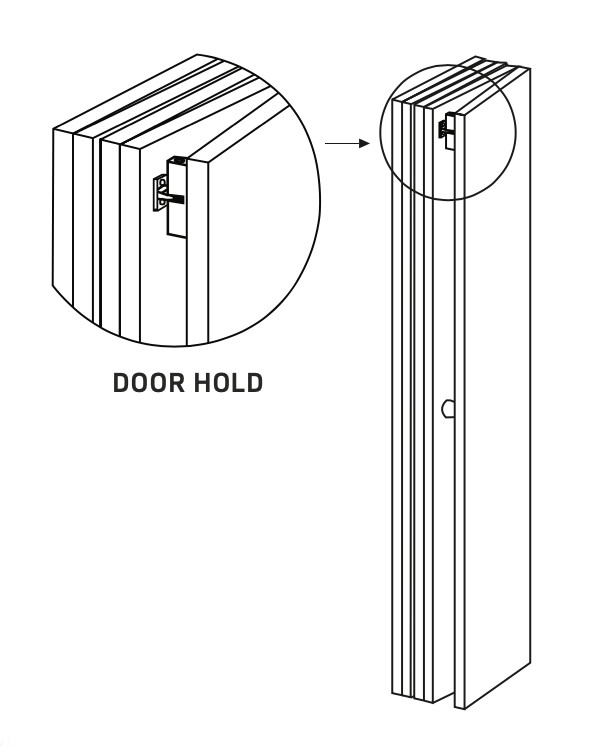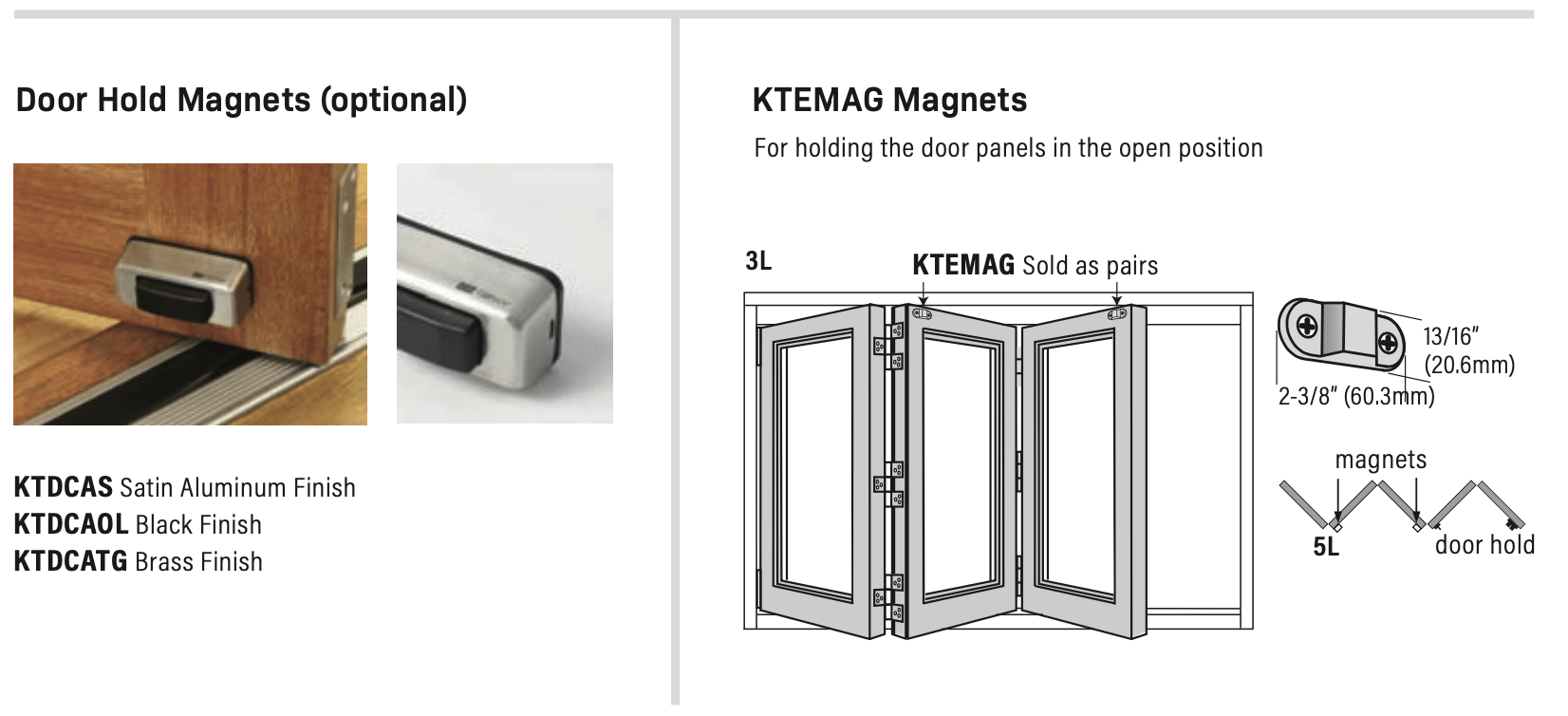 Submit Request
Feel free to drop us a line by completing the form below and we will arrange a FREE and NO OBLIGATION, IN-HOME QUOTE.
[[[["field45","contains","Windows"]],[["show_fields","field47"]],"and"],[[["field45","contains","Exterior Doors"]],[["show_fields","field48,field49,field56,field58"]],"and"],[[["field45","contains","Interior Doors"]],[["show_fields","field50,field51,field59"]],"and"],[[["field45","contains","Bi-Folding Doors"]],[["show_fields","field52,field53"]],"and"],[[["field45","contains","Garage Doors"]],[["show_fields","field54,field55,field60"]],"and"],[[["field45","contains","Siding"]],[["show_fields","field62,field63"]],"and"]]
keyboard_arrow_leftPrevious
Nextkeyboard_arrow_right
FormCraft - WordPress form builder