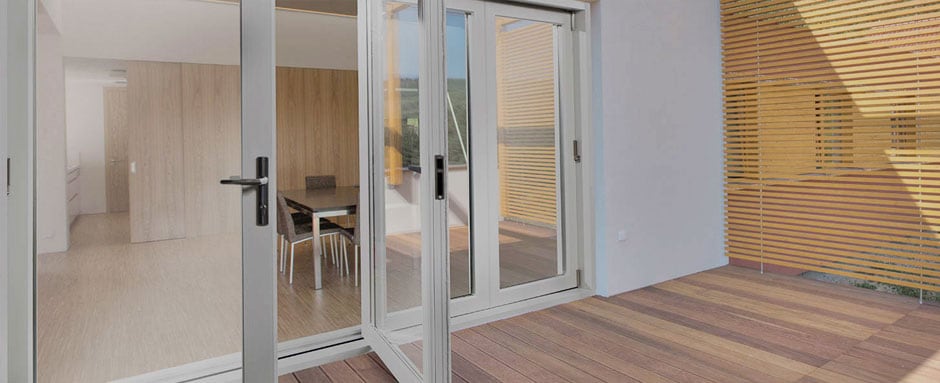 PVC Bi-Fold Exterior Doors

The perfect space solution for large opening, residential and commercial applications.
The Overture folding door offers a unique, innovative, and high performance alternative door solution for residential and commercial applications. The slim design let you enjoy maximum viewing area and the multi-panel designs will fit any décor and space.
Multiple Configurations. Opening from the centre or from the sides. Slim line design to enjoy maximum viewing area. Maximum opening on the outside to appreciate fresh air and natural light.


[one-half-first]
Features
Maximize Your Living Space
– 6 9/16" super-duty frame and slim welded sash design to enjoy maximum viewing area
– When fully retracted, gives easy access to the exterior living
Energy Efficiency
– All PVC multi-chambered mechanically fastened frame
– Glass panels inside the insulated part of the wall
– Heavy-duty weather seals around frame and sashes ensuring optimum air and water tightness
– ENERGY STAR® qualified and achieved an R-Value of 6
Quality and Peace of Mind
– Frame and sashes with metal reinforcement for maximum sturdiness and long lasting quality construction
– Sill with high drain threshold for excellent water drainage
– Stainless steel rolling hardware and hinges
– Multi-point locking system into the header and sill
– All PVC virtually maintenance-free and all exposed aluminum on head and sill tracks is anodized preventing corrosion
– Extruded aluminum screen frame with unique retractable operation. Rolling coil or pleated screen systems available
Innovative Solutions
– Security enhanced with a 3-point locking hardware and independent locking systems at every other panel
– Trouble-free operation with high quality hardware
– Stainless steel top hung roller system provides smooth and effortless operation
– Low profile ADA aluminum sill for better accessibility to people with reduced mobility and for commercial applications
Screen Doors
– Pleated Screen System, single screen available in widths: 78", 106", 141" and 177"
– Heights: 86", 94", 102′, 110", 118", 125"
– All doors exceeding a width of 177" require 2 screen systems
– Available in white and black
– Rolling Coil Screen System (retractable) single screen, width 144"
– Rolling Coil Screen System (retractable) double screen, available in widths: 144", 192", 228" and 288"
Heights: 84", 96", 120"
– All doors exceeding a width of 177" require a double screen
Available in White, clear anodized, bronze
[/one-half-first]
[one-half]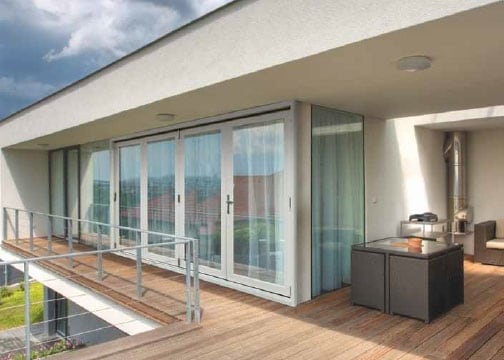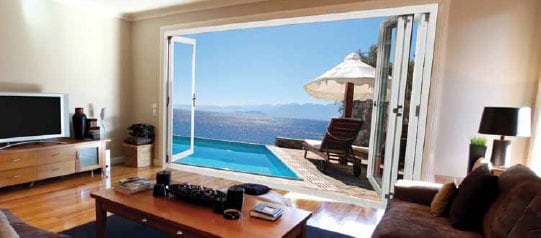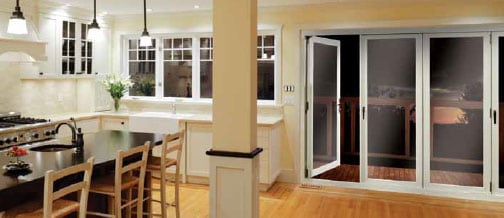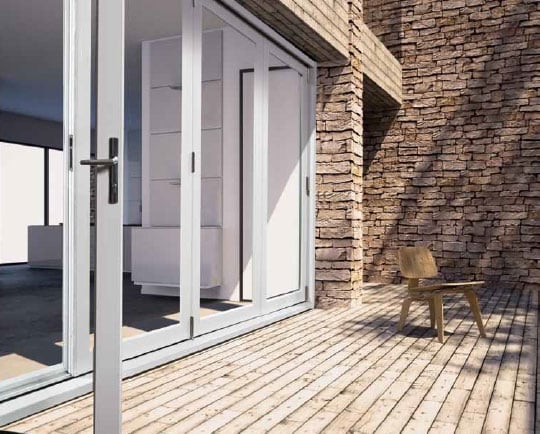 [/one-half]
PVC Bi-Fold Doors Brochure
Info Request
If you have questions about our windows or any other product, please call us or fill out the form below.
[[[["field44","contains","Windows"]],[["show_fields","field54"]],"and"],[[["field44","contains","Exterior Doors"]],[["show_fields","field46,field47"]],"and"],[[["field44","contains","Interior Doors"]],[["show_fields","field48,field49"]],"and"],[[["field44","contains","Bi-folding Doors"]],[["show_fields","field50,field51"]],"and"],[[["field44","contains","Garage Doors"]],[["show_fields","field52,field53"]],"and"]]
keyboard_arrow_leftPrevious
Nextkeyboard_arrow_right
FormCraft - WordPress form builder