In order to protect your house from excessive moisture and mold which can be caused by rain and snow, it is important to have a good rain-carrying system installed. At Northview we offer premium quality, maintenance-free rainware which prevents rain and snow from causing damage to your house. Our durable rainware is engineered to be highly functional and designed to be a beautiful accent to complement the rest of your house exterior.
NV Vinyl Rainware
Our NV vinyl rainware is a very durable product that meets and exceeds the industry's highest standards. It is low maintenance, scratch-resistant, and is available in versatile colors with a coordinated line of accessories.
NV vinyl rainware features:
Reinforced gutter rim – the gutter won't warp, sag or bow due to a reinforced rim that keeps the profile straight.
Heavy-duty brackets – snow and ice can be quite heavy, that's why we use heavy-duty brackets which can easily support all this weight.
Seamless concept – there are no compression seals in our NV gutter system. Once the joints are "welded" with NV cement, the system becomes a single seamless piece.
Easy cleaning – downspouts can be removed easily for cleaning. Smooth joints ensure that the rainware is easy to maintain and the presence of debris is minimized.
Easy installation – time and efforts to install the system are minimized due to snap-together components.
Durability – solid vinyl material is prone to denting. It will not rust, peel or leak. Chemicals in the air and rainwater won't affect the gutter system.
NV rainware comes in 3 profiles:
K-Snap
U-Snap
Classic Half-Round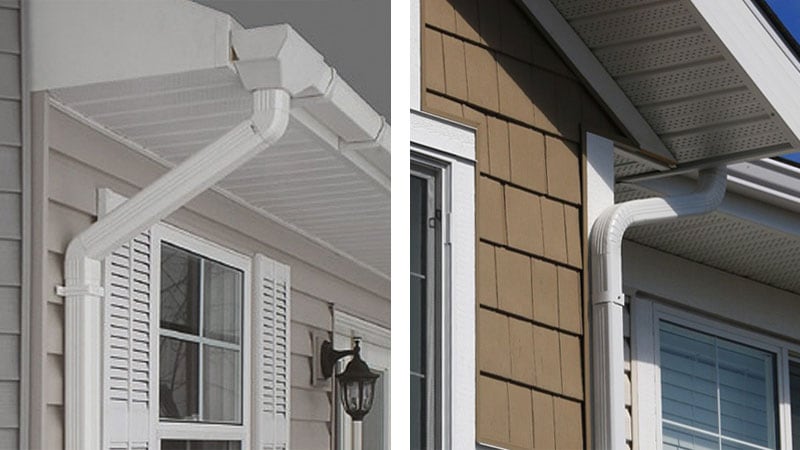 Aluminum Rainware
Northview's aluminum rain carrying system is engineered to give your house reliable protection year after year and create a complementary finishing touch for your home's exterior. Our aluminum rainware is a sustainable product that will give you peace of mind and add to the value of your property. Aluminum rainware features:
Do-it-yourself easy installation
Maintenance-free performance
Resistant to corrosion
Tough, baked-on paint finish with Polycoat9000™ ensures resistance to peeling, flaking, blistering
Doesn't require painting
Preserves freshly painted look for years
Rich assortment of colors with matching trims
NV Gutter Sentry
Did you know that clogged eavestroughs create several potential hazards? Northview offers a great solution – Gutter Sentry with a unique patented design. Built from heavy-gauge aluminum, Gutter Sentry is designed to snap-fit over any standard gutter. Its drainage capacity is more than twice higher than any other competitive product on the market. Gutter Sentry will give you peace of mind by eliminating a potential damage risk from the following issues:
Ice damage – Gutter Sentry has a unique design that does not allow ice to build up in the eavestroughs, thus minimizing the weight on the gutters and preventing them from sagging and bending. Your eavestrough will stay firmly in place without any deformation and will work perfectly for years.
Landscape damage – when eavestroughs get clogged and start overflowing, soil around them can be damaged by erosion and the plants around the house become vulnerable.
Frozen sidewalks – overflowing eavestroughs at the time of temperature fluctuations may cause ice layer formation on your sidewalk and driveway, resulting in falling accidents.
Foundation damage – If the water from your eavestroughs doesn't drain properly, it may collect by your house foundation, freeze up and cause damage and/or flooding incidents.
If you have questions about our siding or any other product, please call us or fill out the form below.
[[[["field44","contains","Windows"]],[["show_fields","field54"]],"and"],[[["field44","contains","Exterior Doors"]],[["show_fields","field46,field47"]],"and"],[[["field44","contains","Interior Doors"]],[["show_fields","field48,field49"]],"and"],[[["field44","contains","Bi-folding Doors"]],[["show_fields","field50,field51"]],"and"],[[["field44","contains","Garage Doors"]],[["show_fields","field52,field53"]],"and"]]
keyboard_arrow_leftPrevious
Nextkeyboard_arrow_right
FormCraft - WordPress form builder